Having a living room without a fireplace seems like an unusual concept to many people. But in reality, a lot of alternatives are there to create a focal point in the living room without a fireplace. In fact, in many areas, there is no need for a fireplace while others can't accommodate one. However, you can still decorate a living room gorgeously. 
For cozy and aesthetic living, you can use other accessories in place of a fireplace that would adorn the living room beautifully. You just need to know the right tactics and ways of decorating the living room with such accessories that can take the place of a fireplace. Even a simple decor can make the room cozy as well as vivid!
With a bunch of ideas on decorating a living room without a fireplace, I am here with this article. From my home decor experience, I have learned ways to adorn a living space without a fireplace. So people who want such ideas, do stay with me to pick up the suitable decor idea that suits your living room.
10 Amazing Ideas To Decorate A Living Room Without A Fireplace: 
Firstly, accept that a fireplace is not always necessary for your living room. In fact, in some climates, you don't need a fireplace much. Regardless of the purpose of a fireplace, you can always find a replacement.
Even for heating the room, you can use an electric room heater and have a modern living room setup. And if you are using the fireplace for decoration purposes, you can absolutely use other ways for decoration. 
Just to expand your decor ideas, I am proposing 10 ideas that you can use to decorate a living space without having a fireplace: 
1. Replace With A Sleek Electric Heater: 
If you are living in a cold area but don't have a space for a fireplace, having an electric heater is mandatory. But that doesn't mean that you have to compromise with the living room decor. In fact, in modern living spaces, a sleek electric heater would look amazingly classy. 
A variety of electric heaters are available in today's market. You can find one that has wooden stands with a rounded frame. It actually looks like a furniture item due to the stands. Keep it at a corner and enjoy the winter! Other than this, you can try the narrow electric heaters that can fit any corner of the space.
And if you still want the look of the fireplace, get yourself a wide electric fireplace heater with a fireplace drawn on the screen. A touchpad heating panel is a good addition too.
So my point is, a modern electric heater not only heats the room but gives a classy look to the living room. A modern living room in cold areas absolutely demands such a heater!
2. An Open Window With Vibrant Curtains: 
Having a wide and large window across one wall of the living room gives an airy and homely vibe. If you are still making your house, do consider having a large window covering most of the area of a wall. 
A wide french window itself is a point of attraction in a living room. Accompanied with vibrant yellow, crimson, or red curtains, the window looks even more highlighted. You may agree with me that it looks the best during the daytime as sunlight illuminates the living room. It truly gives a perky and jolly vibe to the room! But at night, you can put some fairy lights around the window! Now that is how a dreamy living room looks!
A minimalist idea to replace a fireplace is sure to have a wide window in the room. You can enjoy both daytime and nighttime with this idea!
3. Hang A Painting: 
Attention painting admirers! What else do you need to decorate a living room when you are fond of amazing paintings? You can hang a replica of any of Van Gogh's masterpieces. Also, you can pick up any suitable painting (that you like) from a local artist or exhibition. 
You won't find anyone who doesn't love a painting. So it is definitely a good idea to cover a wall with a large painting. Especially if you hang a thought-provoking painting, it would upgrade the overall value and class of the room. The purpose of making the living room impressive and highlighted would be fulfilled with this even without a fireplace. 
So pick a subtle yet thoughtful painting and hang it on the largest wall of the room where you might have the fireplace. With a ceiling light illuminating the painting, the decor would make the room look elegant and aesthetic. 
4. Make A Collage Of Family Photos: 
Who needs a fireplace to decorate the room when you have amazing family photos? In fact, if you are living alone in a cozy apartment, you can use your beautiful portraits to decorate the room!
Family photos and portraits are things that your guests will love to see. The photos express a completely individualistic and rare approach. They show a little about who you are. Also, it gives a feel of belongingness to you; like yes, this is your living room! So if you bulk a wall of the living room with as many family photos or portraits as you can, that will surely become the focal point. 
So if you have only a little idea to decorate the room, go and select the best photos you have. Frame the photos and hang them across a wall in the living room. Adding ceiling lights or fairy lights can surely add an interesting perspective to the photos!
5. A Mini Library In The Living Room:
Book lovers would definitely love this idea. An entire wall, top to bottom, crammed with books not only looks soothing but also shows your fondness for reading. Regular readers can surely grab this decor idea. 
Think of an entire wall decorated with your favorite books or books you want to read on shelves. Keep them strategically. Place paperweights, some flowers, candles, etc. in between the books so that it doesn't look suffocating. You can keep a wooden ladder to climb up your mini library. 
Trust me, this is going to be an extraordinary idea to replace a fireplace. To add to this, place a rocking chair and a lamp at one corner of the wall to make the perfect reading space. 
A touch of intellect with a trace of comforting beauty is what a mini library can offer. It is the perfect utilization of space as well as represents your refined taste and love for reading. 
6. Wall Shelves, Cabinets, And TV Storage At The Center: 
Though a very common modern-day decor idea, this is one of the best things to save space. In a small living room, this layout gives a spacious look as well as decorates the room gorgeously. 
A very minimalist idea that saves space is to add a cabinet, shelve, as well as TV storage across the same wall. Make space at the center of the wall for the TV. Either fix it to the wall or rest on the top of one cabinet. So the cabinets are going across the bottom of the wall. Store anything you want in these cabinets! 
Now place the shelves above the cabinets, besides the TV up to the ceiling. Decorate the shelves with simple yet pleasing candles, showpieces, books, bonsai plants, etc. 
Such a wall saves a lot of space, increases storage area, as well as adorns the room beautifully. A posh vibe comes with this decor too due to the bulk of items in one space!
7. Add An Accent Chair And Ottoman: 
The combination of an accent chair and ottoman shows ultimate comfort and coziness in the living room. Just where you have imagined the fireplace, place a tufted ottoman with an accent chair. A heater beside it may enhance the vibe even more.

With your regular sofa set, adding an accent chair and ottoman would enhance the beauty. It becomes the focal point in the room as using it is very comfortable. You can use it for work and also rest on it.
An all-purpose item like this is useful as well as the excellent designs adorn the room. Especially in today's time, the ottoman-chair combo is becoming popular. So any modern house living room can put an ottoman with an accent chair to minimize the absence of a fireplace. It would surely look exclusive in a tiptop living room. 
8. Rug And Pillows For A Cozy Living Space: 
Imagine a fine winter evening with your friends and family in the living room! Now if you are missing a fireplace here, substituting it with a bunch of pillows and rugs is an excellent idea. It gives eye comfort as well as offers warmth and homeliness. 
Install sofa sets that are low in height across the walls. Keep one side empty and lay furry or nylon rugs on the floor. Put as much pillow on it as you can. Similarly, your sofa set should have enough pillows too with colorful pillow covers. 
With this, install yellow lights in the room and you are all set for a warm and comfy time. Basically, the idea is to make a sitting arrangement that all would love. It looks very pleasing and comfortable while providing warmth. 
A simple but impressive decor idea, isn't it? 
9. Show Your Exclusive Collection:
I have seen living rooms with a simple sofa set and a lamp and a corner full of small sculptures of Lord Buddha! The vibe is so calming that you can spend hours meditating and absorbing positivity! So the idea is to create a corner with pieces that are rare; the idea itself and the items.
You can display a combination of various crystal vases with fresh flowers in them in a posh living room. Otherwise, go and buy antique pieces for the corner. If you are a music lover, put some miniatures of different musical instruments.
Trust me, it can be anything that somewhat expresses your taste and is hard to find somewhere else. It is perfect for decoration; simple but thoughtful. Any collection that you love, any concept that you believe in, or any showpiece that goes with the interior can be displayed in this corner to present an exclusive collection. 
10. Lights And Lamps To Illuminate The Living Room: 
When replacing a fireplace, light and heat are two things that you may consider. And both can be fulfilled with apt lights and lamps in your living room. In fact, it also beautifies the room. 
Ceiling lights on paintings or simply across the ceiling with shades would look heavenly as if the sky is lighting up the room! With that, table lamps and stand lamps should be there at the corners of the room.
Even in the previous ideas, you can add a lamp with it. Last but not least, light some candles on the center table when the guests arrive. As you light up the room with different light sources, it adds a warm and welcoming touch. It also looks elegant and offers comfort on chilly days.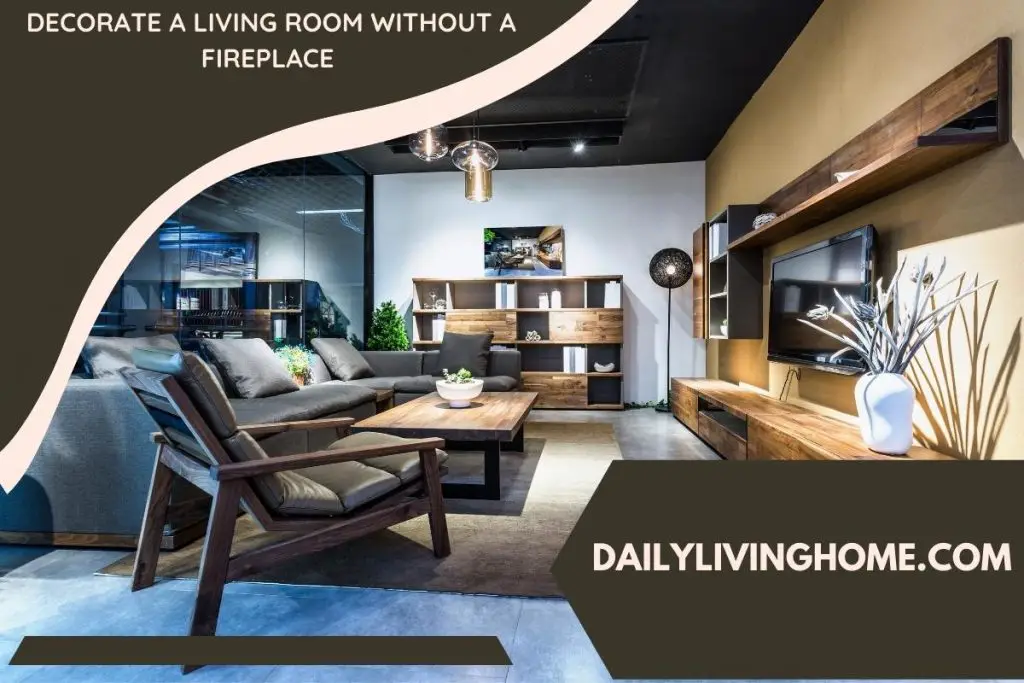 Related Questions: 
How To Make A Living Room Cozy Without A Fireplace? 
If you have already made a living room setup, you may not have much scope to change the pattern. But you can still get a cozy living room. 
Simply pull the sofa and center table closer to each other. A packed-up space automatically offers warmth. With this, you can add some extra pillows, and in one corner, add a rug and pillows for comfortable sitting.
Such an arrangement initiates conversations as a homely and comfy vibe is installed. So even if there is no fireplace, the room gets cozy. 
What To Use Instead Of A Fireplace In The Living Room? 
If you are finding a direct replacement for a fireplace, there are several options. Such replacements not only decorate the room but also heats the living space. 
You can use a touchpad electric heating panel that has a sleek design. Or you may go for an electric fireplace that looks like a fireplace. Sleek and narrow electric heaters that fit a corner in the room are also a smart addition.
Besides, LED fireplaces, and other electric heaters are some options to replace a fireplace. The modern heaters are aesthetically pleasing and can decorate the room as well as heat it up.
What Can You Use As A Focal Point In A Living Room Without A Fireplace?
The main motive of placing a fireplace is to create a focal point in the living room. But there are other ways too to create a focal point in the living room. Here are some elements for using as a focal point:
A bookshelf
A painting
A chair and an ottoman
A tree pot
A set of exclusive flower vases
A wall full of family photos or portraits
A compact cabinet with different candles on it
Bunch of pillows and a cushion at a corner
These are some amazing ways of creating a focal point in the room. You can use different color contrasts to make them look even more vibrant and eye-catchy. 
How To Create A Focal Point Without A Fireplace? 
Note that a fireplace is not the only way to create a focal point in the living space. Some other ways to create a focal point in your living room are given below: 
Hang a large and thoughtful painting with a ceiling light on its top across a wall. 
Accentuate a wall with beautiful wallpaper that suits the interior.  
Make a corner with an exclusive collection of items to draw attention. 
Have a mini library for an intellectually different decor. 
An interesting mixture of lighting can liven up the room. 
A tree in a pot with fairy lights beside the window can give a refreshing look and become the focal point. 
These are a few ideas that you can think of to create a focal point in your living space. 
Final Thoughts: 
A bunch of decor ideas for your living room to replace a fireplace have been proposed. The ideas are unique and their suitability depends on how you do them. From your decor idea, pick one of the ideas and install it to decorate the room without a fireplace.