Carpet for home theater riser plays a crucial role in looking the room glamorous and hearing peaceful sound. If you're carpeting your home theater poorly or low grade, you can't feel the real experience while watching movies or other entertaining objects. Regrettably, poor carpeting will make your entire home design pale. But it is not a tough task to complete. If you're searching about how to carpet a home theater riser, keep reading this article.
It is a great thing to have a home theater or movie hall in your house. It makes it more fun to watch TV or movies on a big screen projector. It also allows you, your family members, and friends to watch all together. But having or setting up a home theater riser is not enough to enjoy the entire fun. There is something more to make this more satisfying. And that is properly carpeting.
11 Easiest Steps To Carpet A Home Theater Riser That Works Great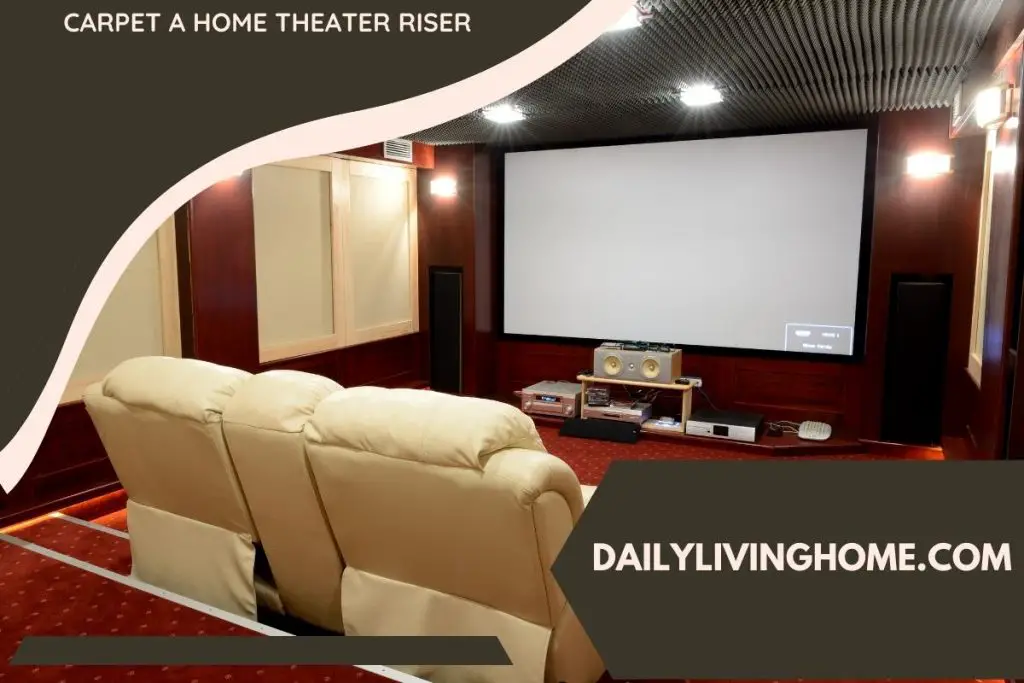 Many of us have a bigger theater room with a big screen projector or TV. Sad but true, not everyone concentrates on decorating this room. Carpeting is one of them to look and get a quality experience. So making your theater room glamorous and catchy, focus on the carpeting.
In this article, I'm going to share all my ideas, tips, and steps on how to carpet a home theater riser easily.
Step 1: Choose The Best
Are you going for the first attempt? Great, first of all, you need to pick the best designed and glamorous looking carpet or layer. Because carpet is mainly installed for increasing the inner beauty. So never compromise on choosing the best, soft, comfortable, colorful, and shining carpet. I recommend choosing a silver screen or customizable room home hall carpet. They are not only extending the beauty of the room but are also easy to maintain.
Step 2: Make Sure The Carpet Is Lightweight
The second thing you should focus on is carpet weight. Lightweight and customizable home theater carpet has plenty of advantages. For instance, you can easily install and maintain it. However, if you like a tidy place all the time, a less-weight carpet would be the best.
Besides, you can wash or take off the carpet after a few days easily. Another thing you should consider before layering the riser with carpet is dust removal.
Step 3: Make Sure Where You Carpet
The next thing that you should consider is deciding where the carpet will be installed. There are two options available. You can carpet over or under the riser or you can choose both. So make sure what you need. If you want to save your extra money, you can go for anyone. Therefore, before doing this, think about where you need to install it. There is an old saying, " Look before you leap."
Step 4: Clean The Place
If you want to carpet your stair's risers, you need to clean the area. You can use a Vacuum cleaner or broom to clean the area. You can also use a high-flow electric gas pipe. Otherwise, you never feel well while installing carpet. Also, if the carpeting area is clean, it will attach to the riser securely.
Step 5: Start From the Corner Of The Platform
Well, it is better to start measuring and fixing the carpet from the corner of the riser. Now go ahead and cut the tack strip. Before cutting the tack strip, push the strap hard to the riser wall and measure perfectly. Make sure there is a little gap between your strip and the opposite edge.
Check both ends of the wood and slice accurately with a cutting tool. Do the same thing for another portion with an angled cut. You need an angle cut for putting the pad on the edge perfectly.
Now, apply carpet glue and unroll the cutting carpet. You can use a glue trowel. Or, you can use wire nails. Before placing the strip, make sure there is a little gap between the strip and the wall. It may be 3mm or less. Continue this process until you hook up the strip all over the riser.
Step 6: Measure Accurately And Mark Properly
The most obligatory and needed thing is to measure the area and volume of the room accurately. If you carpet your stair's riser, you need to measure the height of the stair's riser from front to back. Suppose, you have a 12-feet long room with 8-feet width. You need to choose a 12' X 8' size carpet. If you make any mistake here, all your efforts will be going to the dog.
In this case, you can use a measuring tape. If your stage room is rectangular, draw a diagram accordingly over the carpet. And if it is square, mark it accordingly with a dark marker pen.
Step 7: Cut The Carpet Accurately
After measuring, now, time to cut the carpet in exact proportion according to the size of your riser. Focus on cutting your carpet. Here, you need to be more cautious. If you aren't able to cut properly, your entire carpet will be ruined. Moreover, if it is not cut properly, it will not attach to the riser. There is no problem cutting it slightly large, but never cut it in small size.
You can use a sharp knife or a carpet knife. If you're carpeting on the stage riser, you need to focus more on cutting. Make sure you measure the height of the riser properly.
Step 8: Place The Carpet At The Right Position
After cutting, go ahead to place one piece of carpet on the tack strip. Observe deeply and carefully. You can hit the carpet slowly and check the carpet adjusts to the strip. If there is an extra portion, cut it according to your need. Then set the carpet again on the riser and hit again to prevent bubbles. Now, hit hard on the lower part of the carpet to attach it firmly.
Step 9: Crop And Shape A Carpet Border
At this stage, after attaching, cut the extra edges to fasten the carpet tightly. Make sure there is a half-inch gap between the floor and carpet. If you want to make a more stable position, keep the carpet in warm and sunny weather. By doing this, the carpet will be soft and flexible. And you can easily attach to your rider. It also allows you to push the carpet to remove wrinkles.
Most importantly, never keep any overhanging borders or edges. The carpet should be placed in the same way in the whole riser. If you want to ensure the longevity of the carpet, you can use tape instead of glue. It ensures fixing and stopping the pad and getting rid of folding the carpet.
Step 10: Use Dark Types Carpet
Choosing dark colors like black, gray, dark brown, or blue instead of white would be the best option. They look gorgeous and demand less maintenance. Additionally, dark colors can absorb radiation coming from the TV or projector. Dark or dark blue helps you to experience the best feelings. But there are several things to consider before choosing the color. 
Step 11: Lay Down And Secure The Carpet
Now, take your flexible and soft carpet to lay down the stair riser. Before attaching, make sure the carpet is straight and nice. Use 9/16 staples to tighten and secure the carpet. Use your hand and push hard to put the carpet deep into the riser. You can use special tools here to secure the carpet and attach it to the riser wall. When you see there is no fold or curve, you are all done. You can also use a knee kicker to eradicate any curve.
6 Things To Consider Before Choosing A Carpet For Your Theater Riser
Making your home theater riser and hall room enthralling, carpeting is a must. But before installing carpet on your riser, you need to take into account some things. So what are they? Here I am going to point them out. It will help you to choose high-quality and eye-catching carpets.
Color
There are numerous colors available when I'm talking about riser carpets. Some of them are appealing and some of them are enticing. To get real experience and feeling, you can choose colors like dark, dark blue, gray, or something that absorbs radiation. Nowadays, the most demanding color is black or dark blue with golden points.
Design
Brightness and pleasure mainly depend on how you decorate your home theater or house. As carpet plays a crucial role in extending the glow of the theater riser, you need to choose an eye-catchy design. If you add beauty to commercial theater, choosing nylon or wool carpet would be a wise choice.
Category
Category means types of carpet. There are plenty of carpets available right now in both online and offline marketplace. Each one is good for a different reason. Here is a brief description of them.
Carpet Tiles: Carpet Tiles is best for easy and swift installation. There is a bonus benefit of this is stickiness. This carpet easily adjusts with the riser or floor. For this, you don't need to waste lots of time to do this. Moreover, this carpet looks stylish and enthralling.
Wall To Wall Carpet Rolls: Another highly demanding and elegant-looking carpet type is rolls. At present, their demand is skyrocketing. They have a traditional look, are durable, and are found in any shape and design.
Customizable Carpet: This carpet is easy to customize and install. You can experience a real feeling like you're watching a movie sitting in a real theater. You can find some reels winding and some popcorn popping.
Residential grade Carpet: If you want to increase shining on your theater room, install a residential carpet. They are easy to maintain and wash. There is no hassle in removing any glue or liquid substances.
Commercial Grade: If you have lots of friends and want to enjoy yourself with them, you can go for this carpet. They are made for tolerating high foot traffic without taking any stretch. They are a durable and heavy-duty option.
Dirt And Dust Removal
Suppose, you're watching anything in your theater room with your entire family members and friends. And you arranged the meal and liquid food. So there is a chance for the food to fall on the carpet, right? It will not only ruin the beauty of your carpet but also reduce its lifespan. In this case, choose a carpet from which any dirt or sticky things can be removed easily.
Comfort
Never compromise comfort and flexibility while choosing carpets. There is no benefit of having a large theater room if the carpet you install is hard. Therefore, choose a carpet that is comfortable and easily removable. Here you can choose wool carpet or soft cotton carpet. You can buy them from the local market or online marketplace.
Price
Price is an important factor when choosing anything you want to buy. The price of a high-quality and soft carpet is usually a little higher. Although higher, it is crucial to choose the best. The home theater riser carpet costs between $30 and $3000.
Benefits And Advantages Of Carpeting A Home Theater Riser
There are uncountable benefits to carpeting. That is to say, without carpeting, the beauty of your theater will not be revealed. I don't know what you think but I can't imagine a home theater riser without carpeting. In a word, without carpeting, your home theater riser is incomplete. Here I am going to mention some great advantages.
The quality of sound will increase after covering the rise with carpet. Imagine, you are watching a movie or anything you like in your theater. And at that moment, you hear sounds that distract or bother you. In this case, how do you feel? It must be annoying, mustn't it? But if you have carpeting in your theater riser, you won't have this problem.
So, to remove this hassle, you need to carpet the home theater riser platform. It provides comfort, warmth, and a beautiful foundation while absorbing sounds. It also helps you hear accurate and clear sounds from the sound system.
Carpets give you comfort and happy watching. If you have a wool or nylon carpet over your riser, you can watch comfortably till the end. If you have a wood or tile-like riser, you can't feel the maximum comfort. But after covering the riser with carpet, you can feel the real fun and comfort. Carpet also provides warmth in the time of cold when you won't find tile or wood riser.
Besides absorbing cacophonic and harsh sound, it can control sound volume as well. If you have hard flooring in your theater room, you may hear annoying sounds. It also creates irritating distortion. But on the carpeting surface, you never hear this and remove this hassle. If you look at cars, trains, and airplanes, there is also carpeting. But before getting all the benefits, you need to choose a high-density and delicate carpet.
Beautify Your Home Theater Room
Without covering your wood or tile-like theater riser with carpet, it looks dull and gloomy. So carpeting is the best possible way to make your decoration bright and gorgeous. When the question is prestige, you should consider carpeting at any cost. There are so many gorgeous-looking carpets that make your room brighter and more catchy.
There is also the ability to absorb ultra-bright radiation. What if the lights in your room go straight to the projector screen? Isn't that annoying? This is why you won't be able to see the real picture or scenery. But the good news is that carpets can easily absorb this extra light. Remember to install the black carpet that I mentioned before in this post.
Frequently Asked Questions (FAQs):
How Much Does It Cost To Construct A Home Theater Riser?
Building a home theater room is impeccable. It needs to be installed in every home to get the same benefits as commercial theater. If you have an additional room that is not used, you can install a home theater. But many of us don't have any idea about the cost.
A high-quality home theater room costs higher. The range of the price is between $10,000 and $50,000. The average cost is $30,000. If you have a small room, it costs $10,000 or something more. But if you have a larger room, you need to pay a higher range of costs.
Final Verdict:
Carpeting a home riser has never been easy without knowing the best possible rules and ways. In his article, I tried to put an easy and effective solution about how to carpet a home theater riser step by step.
You will never get the real fun like commercial theater unless you do carpeting on your home theater riser. It's not just to enhance the prettiness of the room. It will give you the pleasure of sitting in a real theater. I hope you enjoy the reading and find it helpful.