Make your living or dining room more fresh and glamorous by cleaning your tiles on a regular basis. If you have Basketweave tiles in your room, kitchen, and bathroom, you are an elegant person. However, it often gets dirty in many ways. This is why I arrange this article with a detailed description of how to clean basket-weave tile naturally and perfectly.
Who doesn't like to decorate the house? And tiles play a significant role in enhancing its beauty. Just not knowing the right methods and materials does not make it easy in most cases. It enhances the beauty of your bedroom, dining room, bathroom, veranda/corridor, drawing room at the same time.
Basket-weave tiles have cracks here and there. Therefore, you need to be more strategic in cleaning the basket-weave tiles. Because of sticking dirt and garbage into its cracks, it can't be cleaned with ordinary water or soap.
Step-By-Step Process To Clean Basket Weave Tile: 6 Steps To Go
Cleaning tiles or any other stuff is mandatory to extend the beauty of the house and make it animated. So it is mandatory to clean the tiles regularly. But before that, you should know how to clean basket-weave tiles. This is why I am going to share some tips and methods with you.
Step 1: Accumulate The Required Materials
As the first step in any work, you must keep the useful things close. You also need to know what is useful and what is not. When you clean your basketweave tiles, you must have those related things at hand. It will be as easy to work as it will be fast.
I always insist on this. Because the work is said to be half done when you have all kinds of necessary equipment. To clean tiles you need to have: a paintbrush, vacuum cleaner, detergent, soft cloth, PVA adhesive, paint scraper, mop, baking soda, floor cleaner, and a plastic scraper.
Step 2: Sweep Or Wipe The Surface
Tiles in all areas of a room are not dirty in most cases. Dirt is usually the place where there is a lot of walking or work. In this case, if you want to clean thoroughly, it is better to wipe the place with a broom or dry cloth. This will clear the tiny particles or dust.
Again, large spots will be easily visible. So I would suggest sweeping or removing the whole part thoroughly before the deep cleaning. You can also use a vacuum cleaner here. In this way, the subtle particles will also come up and get comfortable working.
Step 3: Remove The Damaged Or Broken Tiles
In many cases, some tiles break due to not cleaning or maintaining the tiles for a long time. There is a possibility that your hand will be cut off while working. To avoid this hassle, however, you need to see if there are any broken tiles. If so, carefully remove with a scraper or hacksaw. It will be safe for you and help you to get the job done effortlessly.
Tip: If you see that the tiles are only separated and not broken yet, put them back in their place. Here you can use a small head hammer. This will save you both money and time.
Step 4: Make A Solution With Tile And Grout Cleaner
Tile spot removal or tile cleaner is inevitable chemicals to clean the basketweave or any tiles deeply. Here you need water, grout and tile cleaner in equal amounts, and a sponge. Make the solution by mixing 1 part cleaner with 5 parts water. Or, you can use lemon juice and baking soda paste over the surface.
Step 5: Apply The Solution
After making the solution, now apply it with a sponge or mop. Or, you can soak the sponge into the solution and scrub the untidy area with it. But remember, don't scrub vigorously. It will damage your tile's smoothness. You can also pour the solution over the unclean surface and wait 5 minutes. And then, when the dirt and dust or spot get loosened, scrub with a sponge or sponge-like product.
Step 5: Remove The Paint Splashes
If excess solution sticks to the tiles, they need to be removed. Clean the paint splashes with a scraper or utility knife. However, rub in such a way that the tiles will be damaged. You can also use a plastic scouring pad instead of a hard scraper.
Step 6: Use Vacuum Cleaner To Dry
Wash the area after cleaning. The tiles remain wet after washing. As a result, you are more likely to slip and fall. This can cause you great harm. So you need to use a dry cloth or a vacuum cleaner to dry the place.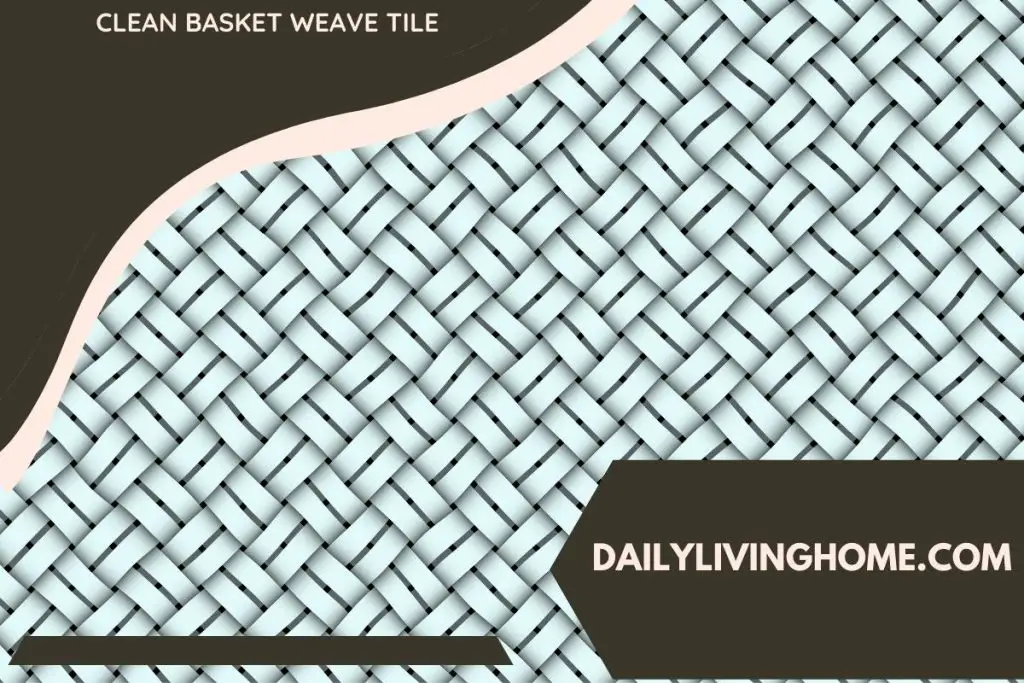 10 Different Methods To Clean Basketweave Tiles Efficiently And Quickly
If you don't complete the work in the above steps, you can apply these methods. Hopefully, your entire tiles will get back to the previous look. The household products like Vinegar, lemon juice, borax, baking powder, and many more are highly effective solutions.
Method 1: Use Baking Soda
There are many practical areas for baking soda. It is a widely used cleaning ingredient. It contains sodium and bicarbonate ions that are active on oily things and grease. Anyway, let's talk about usage. Follow the steps below.  
Everything you need: Hand gloves, mask, vacuum cleaner, damp sponge or cloth, and floor mop with a long handle.
Sprinkle baking soda onto the sponge if you're cleaning the vertical surface. If you clean a flat or horizontal place, spatter directly in the area you want to clean.
Wipe down gently with baking soda and a damp sponge.
Use your old toothbrush to clean the grouting and squeezed area.
Make sure you scrub gently, not vigorously. If you scrub hard, it will leave a scratch or spot.
Finally, rinse the area with soapy water and use an absorbing cloth or vacuum to dry the surface.
Method 2: Use White Vinegar
Vinegar is the most popular cleaning ingredient. White vinegar is a widely used cleaning product that is very effective in cleaning tiles or mild spots. However, you can effortlessly clean up swiftly by following the steps below.
Mix 1 or 2 parts of vinegar with 4 parts lukewarm water to dilute the solution.
Take the solution into a spray bottle for quick and easy cleaning.
Spray the solution onto the greasy or sticky dust.
Leave it for about 5 to 15 minutes to dissolve the grease or stains.
Take a damp, clean and soft cloth and wipe away.
Continue this process until the stain or dirt is removed.
Method 3: Use Lemon Juice
As lemon juice contains mild acid or carboxylic acid, it never harms your tiles anyway. Lemon contains citric acid which is powerful to absorb against cooking spills and the dreaded sticky dust. If you hate the smell of vinegar, you can use fresh lemon juice. Lemon juice has a fresh, soothing, and citrusy scent. Here's how to apply:
First, take some lemons and slice them into pieces.
Squeeze them well and take the juice into a container or glass.
Then, mix some water in it but it is not mandatory.
Now, make a paste by shaking well with some baking soda and lemon juice.
Apply the paste to the untidy area and leave for 10 to 15 minutes.
After that, take a mop or sponge to scrub the area.
Alternative approach:
Take a spray bottle, mix a cup of lemon juice and baking soda.
Now, pour 2-3 cups of lukewarm water into a bottle and stir thoroughly.
Next, simply spray the solution onto the grease or oily surface.
Leave it for 10 minutes or more to loosen the grease or dirt.
Finally, scrub away with your hand using a sponge or damp cloth.
Or, you can simply sprinkle baking soda on the sliced lemon for spot or stain cleaning.
Method 4: Use Borax
Borax or Sodium Borate is another household cleaning ingredient that is readily available. It works superbly against the grease and sticky dirt. It is a chemical compound with Sodium, Boron, and Oxygen.
It cleans the tiles and increases shine. Here's how to use it as your tile cleaner. Since it is a heavy-duty compound, it is capable of removing stubborn stains from tiles and grout.
First, make lemon juice and put it in a glass or spray bottle.
Now, combine a cup or couple of lemon juice with borax to make a paste. (Depends on the size of your cleaning area)
Apply the paste to the area you want to clean.
Leave the paste for 15 to 20 minutes.
Buff or rub the area using a dry, soft, and clean cloth.
Finally, rinse the area to see the improvement and make more shine.
Tip: Use a sponge or mop to scrub the area. It helps you to get rid of all the dirt and dust thoroughly. Never, rub too harshly. It will ruin the smoothness of the tiles.
Method 5: Home-Made Cleaners
Using your readily available homemade cleaner is another mind-blowing solution. It is an easy to make and less time-consuming approach. Moreover, it costs very less than any other cleaning solution. In addition, it is a natural and safer way to get the job done effortlessly. So take a look at the process.
Make a solution with your liquid dish soap, white vinegar, warm water, and essential oil.
How much you take is up to you.  However, I suggest if you clean a large area, then mix 5 cups of dish soap and 3 cups of white vinegar with 10 cups of lukewarm water. You can use essential oil to feel the fragrance.
Make a mixture by shaking for a while.
When the mixture is ready, pour it.
Then wipe with a broom or mop with a long handle.
Continue this process until the dark spot or sticky additives are thoroughly removed.
Lastly, use your old toothbrush or hardy paintbrush to clean the grouting.
Method 6: Use Spot Cleaner
Spot cleaner is a standard solution but not as effective as the above methods. Using spot cleaners will eradicate dirt on the top of your floor. It removes all the occasional stains and cleans the upper area.
Method 7: Use sandpaper
Doesn't it feel good to hear? Use sandpaper for grout. As is often the case, sponges or mop grout cannot be cleaned properly. In this case, all the stains can be removed using sandpaper. Never use sandpaper on tiles. This will ruin the smoothness of your tiles. In this case, you have to work in the following way.
First, fold First, fold the sandpaper 4 times.
Now, rub it on the grout line with the lustrous part.
Continue rubbing until the dirt is completely gone.
You can soak the area with some water before rubbing to make the work easier.
After rubbing the creased border for a while, wash the area with normal water.
Or, you can use soapy water. Use a clean cloth to wipe the area after pouring the water.
Finally, dry the area with a soft, dry, and clean cloth or vacuum cleaner.
Method 8: Apply Deep Cleaning Process
This procedure is only effective when you want to get rid of blemishes. For example, your tiles have a heavy layer of dirt on them. In this case, it is not possible to get rid of it with common detergents or other widely used ingredients.
Or, many times it is seen that some stains have become dry and mixed with the tiles. In this case, you need to apply the deep cleaning process.
You can choose a rough sponge to do this. And the toothbrush is needed to clean the grout. This way you can easily and comfortably replace your dirty or old tiles.
Method 9: Use FIXOL
Currently, Fixol is a well-known tile cleaner. It cleans the table as well as disinfects the floor wonderfully. It is available in a 500 mL or 1L bottle. 
First, pour the Fixol directly from the bottle onto the tiles.
Wait for 5 to 10 minutes after pouring.
Then, wipe clean with a brush.
Method 10: Apply Muriatic Acid
Using muriatic acid is a handy solution for any algae or slippery garbage. It reacts faster against the yellowish dirt.
Everything you need: muriatic acid, hand gloves, small scroll plastic brush, little brushes, a little sponge, and an antique clean bucket.
To complete the cleaning with muriatic acid, you should go through the following steps.
First, take some cold water in the bucket.
Then, mix 3 parts of water with 1 part or 2 parts of acid.
Stir a little and leave the acid to dissolve for a while.
When the acid is completely dissolved, dip the sponge.
Once the sponge is well wet, lift it up and gently rub it on the dirty area.
Do not rub in such a way as to cause any damage to the tiles.
After rubbing, rinse with water.
Repeat this process as you need.
How To Keep Your Basketweave Tiles Tidy? – 3 Things You Should Know
Tiles play an important role in maintaining the beauty of the floor and walls of the house. In a word, it makes the house more glamorous to bring your contentment. But these tiles get dirty after a while. And it's very annoying and annoying. Considering the following points, you can get rid of this problem to a great extent.
Clean The Tile On A Regular Basis
Anything like tiles or other furniture gets dirty or damaged due to not cleaning for a long time. Basketweave tiles are a little harder to clean but can be easily cleaned by applying the above methods. Regular cleaning, for instance, once a week is a prerequisite to protect your tiles from any damage. In this case, you have to be a little hardworking and persevering.
Don't Use Fading Chemicals
When cleaning, do not use any chemicals that will damage your tiles instead of cleaning them. So know well beforehand which chemical to use. This will not damage your tiles. There are many chemicals that destroy the original color of the tiles. This way, the tiles lose their shape and shine.
Choose Dust-Resistant Tiles
There is a wide range of tiles available which are dust and stain-resistant. It will be a wise decision to choose tiles that are dust-resistant. By doing this, the cleaning hassle will be reduced and they are long-lasting as well.
Frequently Asked Questions (FAQs):
What Equipment Do You Need To Complete The Cleaning Process?
There is much necessary equipment you should accumulate before getting an excellent finish. Here they are:
Hand gloves;
Mask;
A long handle mop;
A small mop or brush;
An old toothbrush;
A spray bottle;
A mid or small-sized rough sponge;
Vinegar or Acetic acid;
Borax;
Baking Powder;
Scraper or utility knife;
A dry and clean microfiber cloth;
Liquid Dishwashing soap;
A vacuum cleaner;
Floor or tile cleaner;
A bucket, etc.
Can You Use Hydrogen Peroxide On Basketweave Tiles?
Hydrogen peroxide(3%) is an effective and natural cleaner. It is used for various purposes, especially cleaning properties. Hydrogen peroxide is an excellent solution to remove stubborn stains from the tiles. Likewise, if the dust is thicker and sticky, it works great against them. Here's how to apply the H2O2:
Take H2O2, a bucket or bowl, and lukewarm water.
Combine the ½ cup of H2O2 with 1-gallon of lukewarm water.
After combining, stir for a while and start pouring on the tiles and grout.
You can also make a paste by mixing baking soda and then scrubbing it with a sponge.
Finally, rinse the area when it looks nice.
Final Touch
If you want to make the tiles look more elegant and vibrant, there is no option to clean them on a regular basis. Though the task is not a piece of cake, it will bring you happiness. However, when you're dealing with the basketweave tiles, it is slightly hard to get the stain out.
But I tried to find possible methods of how to clean basket weave tile. Applying these steps and methods will help you to remove the cleaning hassle. I hope you enjoyed the article and wish you an excellent cleaning journey.