Decorating a room with a rose-tinted carpet is a great idea. Be it a living room or your bedroom, laying a pink carpet adds a bright yet pleasing look. The color itself becomes the focal point and accentuates the entire room. So if you have chosen such a color for carpeting, you are definitely going to have a charming interior. 
But as pink is not a neutral color, you have to plan the interior strategically. To decorate around a rose-colored carpet, you may need to experiment with ideas. Because not all colors, patterns, and designs go with the pink shade. Without proper planning on the entire room decor, installing a pink carpet can be a waste. Yes, what you are installing around the carpet matters. 
For all pink lovers, I am here to save your day. You can have a stunning rose-tinted carpet and a beautiful room as I will talk about some amazing decor ideas today. Therefore, to learn all you can do around your rose-colored carpet, stay with me and handpick some exclusive decor ideas. 
9 Decor Ideas Around Rose-Colored Carpet: Styling With Pink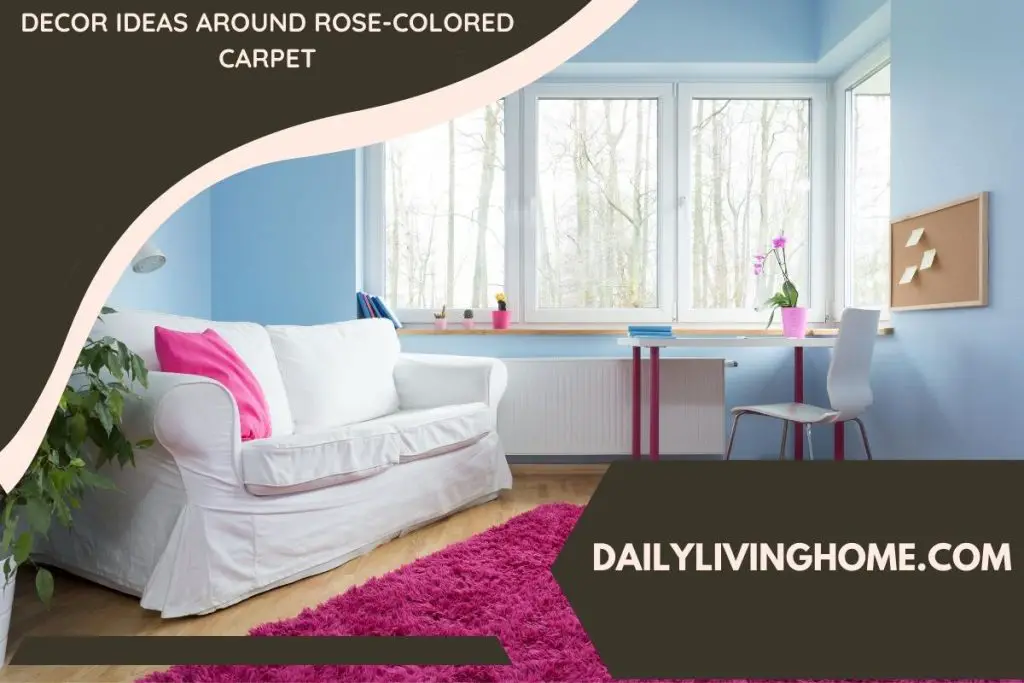 As pink is a bubbly color, it is perfect for vibing. But if you fail to match the interior with the vibe, the investment would go down the drain. Note that you can create both a charming and an elegant look at the same time with this color tone. You just need to decide on which style you like and work accordingly. 
For your convenience and to expand the scope of styling with a  rose pink carpet, I am here with some exclusive ideas. I have seen and experimented with home decor for many years in which rose-pink carpets are styled beautifully. In fact, a lot of decorations can be done around a pink carpet. 
So here are my 9 amazing decor ideas around a rose-colored carpet: 
1. A Peach-Pink Theme For The Bedroom: 
You may think that it would look monotonous to decorate the room with one shade of pink. While you are right at one point, it would also look unique. Just like people style a room with white color, you can choose a peach theme for the room. Especially, to have a romantic and charming bedroom, a peach-pink theme is perfect. 
With soft peach carpet, place a peach-pink chair and a half and an ottoman at one corner. Match it with floral peach-colored curtains, cushions, and bedsheets. The floral touch would bring the actual rosy vibe as well as a touch of affection to the room. It would surely break the monotony. You can paint the room walls white or even try the peach tone. 
Adorning the room with peach-pink with floral accentuating elements gives a sheer touch of warmth and love to the bedroom. This is something very unusual but pleasant. Just imagine the look once!
2. Combine Different Shades Of Pink: 
Pink is considered both a soft and bright color depending on the shade you are using. So what about blending different shades of pink in a room? I have seen such brightly decorated living rooms in a few houses and thought of adding them here. 
Get a light shade of pink like blush or crepe pink for the carpet as it is eye-soothing. The sofa set and center table can have a darker shade like rose or watermelon pink. Bright shades like Fuschia or magenta can be used for the pillows.
You can also have a bright-colored rug at one corner of the room. The walls can go rose or lemonade pink; a subtle but catchy tone. For the curtains, use a transparent bubblegum tone. 
To accentuate the space, even more, use hot pink, magenta, or bubblegum pink for vases, shelves, cabinets, ottomans, or even doors. If you want, you can have some printed things like cushions, rugs, vases, curtains, etc. Wow! It looks too bright and quirky!
3. Blend Cream With Rose Or Peach Pink: 
After dealing with the shades of pink, let's create contrast for an ultimate elegant look. And for this look, we are going to blend rose or peach pink (whichever you prefer) with cream or off-white. Such a soft and silky combination, right? 
Thinking of pink and cream shade makes me think of silk and velvet. The colors bloom the best in these materials giving comfort, softness, and warmth. So you can pair velvety soft pink carpet with cream walls. Style printed cream-pink floral silk curtains and use the same motive on the sofa set.
Blend cream and rose pink throughout the furniture items in the room like cabinets, shelves, or tables. You can add a printed cream-pink wallpaper to accentuate a wall and hang a painting on it. 
Nothing can be more elegant and classy than a cream-pink theme. You can surely use this combo in your living room to amuse your guests! Oh! Adding a few pink-colored candles can light up the room differently! Do keep that in mind.
4. Combine Neutrals With Rose Pink Carpet: 
If you want to highlight your velvety rosy carpet in the room only, go with neutral colors for the other items in the room. I would suggest going with gray and off-white and shades of brown for the furniture items. 
The intention here is to give a very simple and soothing look with just a highlight in the room; that is the pink carpet. The other items will be subtle yet beautifully pleasant. Go for an off-white print sofa with a dark-brown wooden frame. The other furniture pieces can be off solid-colored wood too.
The cushions, pillows, curtains can be gray and white. Paint the walls off-white. Other colors like beige and blush nude can be used on the sofa, and showpieces too. 
This idea is the best for a minimalist living room or bedroom. Only the rose-pink carpet will be highlighted and other items will gently blend with it. Such an idea is summer-friendly, eye-soothing, and calming. 
5. Pistachio Tints With Rose Pink: 
The combination of pistachio and rose pink already sounds satiny and gorgeous, isn't it? The combo truly looks out-of-the-world as these light tones go too well with each other. And this combination can be used in any of the rooms in a modern house setup. 
A sleek bed with a pistachio bedsheet, pink pillows, and cushions, matched with a rosy carpet looks so soothing and cozy. With pistachio walls and pink curtains, the look becomes royal and elegant. Similarly, this combination blooms beautifully in a living room.
Velvety pistachio sofa or chairs, silky pink curtains, and furry pink carpets would express richness. With subtle white lighting, these color combinations would shine like anything! Even in sunlight, your rooms would sparkle just because of this contrast. 
Pistachio with rose pink is a magnificent choice. Not only it looks beautiful but also keeps it simple, subtle, and attractive. 
6. Black And Hot Pink For A Vivid Decor: 
Not all people like a subtle and simple color combo! If you are the one who loves a lucid and extravagant, just combine hot pink with black. Not only does it dazzle the eyes of your guests but also installs a festive look. 
My idea is to decorate the room with embroidered items colored pink and black. The designs more or less look like embroidered sherwani! So the look gives a very bright, vivid festive look to the room. Also, this design mimics the old architectural buildings of India. So these motifs give a royal and antique touch to your room as well as the color shades give a modern and lively vibe.
Therefore, put on such embroideries on the table, sofa, ottomans, and keep the carpet solid pink. The pillows should go pink and the curtains can go floral. Keep the furniture items black and don't forget to install a lampshade to highlight a corner. 
Such a bold look is chosen only by a few brave people who can deal with this vividness! If you love an antique touch with loads of colors and life in it, the black-hot pink combination is just for you. But please include the embroidery motif to have the ultimate royal look!
7. Powerful Red Blended With Pink: 
Red is such a bold color with a powerful impact that you can't take your eyes off. Consequently, in this design, the emphasis would be on red and the pink carpet would be accompanying it only. 
Rose pink carpet with a red border and embroidery would be my first suggestion. You can skip it if a solid pink carpet is your choice. The sofa or chair set will be blood red with white pillows to create a contrast. With this, the center of the room becomes the sofa set.
The net curtains would be a mixture of white and red. Put a tree pot or vase painted red at one corner and place a lampshade beside it. The shelves and cabinets can be kept white. So the focal point becomes the sofa only. 
The vivid and bright red contrast with the pink carpet gives a rosy, and garden feeling in the room. Both are the popular colors of rose and so bright that dazzle eyes. For extra charm, keep some red roses on the center table. 
8. Highlight Blue In Rose Pink: 
Let's keep the focal point royal blue and the other sides of the room go pink. Yes, that is a very unusual combination but would look amazing. This blending is truly rare!
So here, all the items in the room would go pink and white; very soft and subtle. The carpet is obviously a pink one. The sofa and center table can go white or off-white with pink pillows. Next, use a pink curtain with white walls. You can adorn one wall with a shade of pink.
Now place an ottoman or divan just across one wall which will be colored royal blue. A blue-shaded painting on top of it in the wall would give a picture-perfect wall. Among all the pink shades in the room, this particular wall with a royal blue tint would look gorgeous!
Therefore, just a wall decorated with a royal blue divan and painting can make your room look royal and exclusive. Pretty easy right? 
9. Dreamy Crimson And Rosy Pink:
Let's now paint the sky in your bedroom! Just imagine the scenery of a sunset in the town when the sky turns pink to crimson. This warm combination is so bright that it can liven up any room!
The color crimson is basically a blend of pink and yellow. When mixed with rose pink, it truly looks like someone has painted the sunset sky. So in this decor, with the rose-pink carpet, create a contrast of crimson sofa set and curtains.
Keep it plain and simple and let the color play the trick. With this, the walls would go pink and all the other items would be of neutral colors. The focal point will be the blend of crimson with a pink theme. 
Keeping it plain means to express the authentic look of a dreamy sunset sky. With yellow lights at corners, it looks even more bright and vibrant. You can literally hang a painting of the sunset sky on a wall!
Related Questions: 
Which Color Goes The Best With Rose-colored Carpet? 
Rose pink is a very soft and soothing color. With this, you can either match soft shades or contrast with vivid and bright colors. But still, not all shades look good with rose pink. 
Here is a list of colors that go the best with rose-colored carpet: 
Crimson
Black
Off-white or cream
Red
Magenta and Purple
Pistachio or light green
These are some shades that can be smartly combined with rose carpet for stunning home decor. 
Why Install Rose-colored Carpet? 
Installing rose-colored carpets is becoming common day by day. It is such a soft color that can be matched and contrasted with other shades. For classy and elegant home decor, pink is a good-to-go option. 
Here are a few reasons why installing a rose-colored carpet is a good idea:
It is a summer-friendly color. 
Rose-pink is an eye-soothing color.
You can contrast it with dark and vibrant shades. 
It goes well with light shades too. 
So basically, you have multiple options to style with a rose-tinted carpet. Also, it is aesthetically pleasing and offers a very colorful vibe in the room. 
Conclusion: 
I have handpicked the best decor ideas that go well with rose-colored carpets. As I don't know the interior you have, it is your task to select the best combination. Choose a style you want and among the mentioned options, pick one style that goes the best with the pink carpet. 
Are you ready to style with the pink carpet?