The living room is the center of attraction in a house. This is where your guests meet, you have your family time and spend the most beautiful weekends. And when the living room plays such a big role in home decor, decorating it is possibly the first thing to consider. So what about decorating the living room with pictures? That sounds like a good idea, right? 
Decorating a living room with pictures can be done in various ways. You can choose different frames, paintings, and photographs, and also different corners or walls for this decor. But before you decide on decorating a living room with photos, you must consider the possible options. Because you never know which one would suit your living room the best. 
To help you out with this, I am here with a bunch of ideas to adorn your living room with photographs. I have collected these ideas by exploring different interiors and added my thoughts too. So stay with me and look into the living room decor ideas with photographs.
7 Ways To Decorate A Living Room With Pictures: Know How To Arrange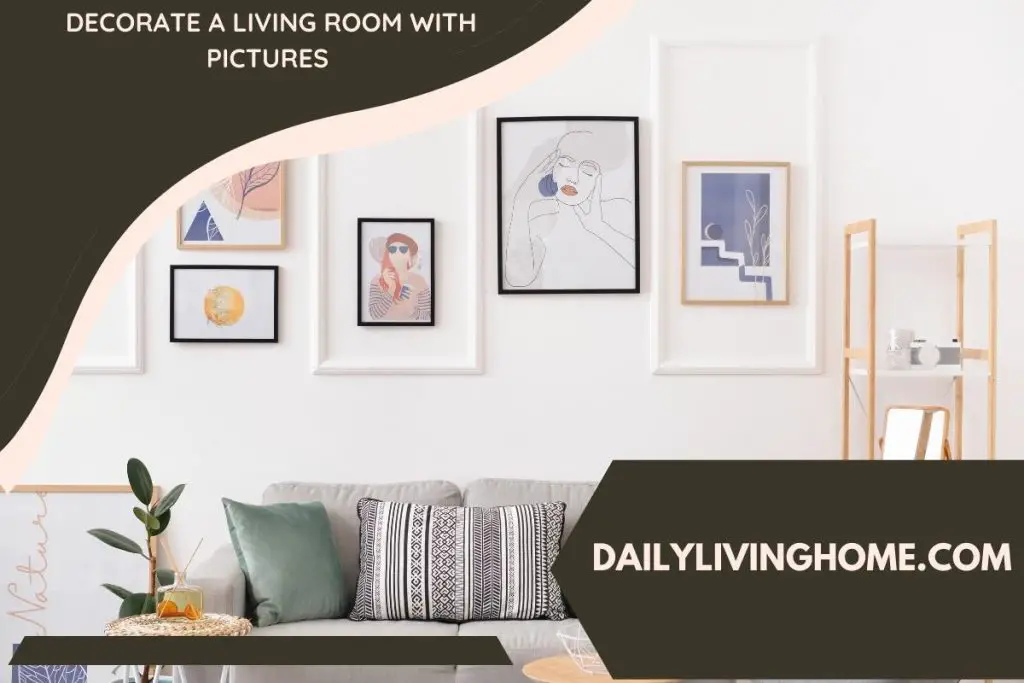 In the first part, I have provided ideas about what type of photographs you can choose to hang in the living room. In this portion of the article, I intend to show how you can arrange these photographs. You see, framing and occupying a space in the room in a certain way makes differences. So you must get some idea how you can use these photographs. 
Here are 7 ways to decorate the photographs in your living room: 
1. One Frame To Cover The Wall: 
The classic way to decorate a wall is to use a single piece to cover an entire wall. For example, a large painting or portrait would cover a wall and become the focal point in the room. For spacious living rooms, it is a great arrangement making the living room even larger. It gives a dimension and attracts all towards a central point; the large painting or portrait. 
With a light just to the top at the center of the frame, the decor becomes a bit dramatic and happening; I mean absolutely stunning! 
2. Multiple Frames Placed Diagonally: 
Here comes another very common photo arrangement. To keep it tidy and neat, you can make a few frames (can be family photos, clicks, etc.) and hang them diagonally across one top corner of the wall to the bottom corner of the opposite wall. This arrangement may sound very boring but works well if you want to display the photographs clearly. Also, the design is very minimalistic and neat. 
With a very simple living decor, hanging photographs diagonally would look more beautiful, tidy, and eye-soothing. 
3. Multiple Photos Arranged At The Center: 
Despite covering the entire wall, this arrangement just covers the center of the wall. You can make frames or print photos of different shapes to do this decoration. Different widths and lengths of photos create an excellent dimension on the wall. Family photos or a photo collection look best in this way. The collage can be done by creating a round, square, quartz, or hexagonal shape with the frames or photos on the wall. 
This decor is suitable for both modern and old decor. The design is very simple yet happening to attract the attention of all towards the photos. A neat and clean arrangement!
4. Just Stand A Photograph: 
What if you don't hang the photograph or painting? If you have a large framed photo or painting, you can simply keep it in a corner without hanging it on the wall. Make a corner for the photo, keep it there, and put a home plant and a lampshade just beside it. This has a very soothing and calming impact on the room. Keep the lights dim in the other parts of the room, light the lampshade, and the decor is complete! All the eyes would be on the photograph!
For a simple yet elegant and calming look, standing in the photograph is really a good idea. Especially in spacious rooms, it gives a cozy and comfy vibe. 
5. Hang Photographs With Fairy Lights: 
Nothing looks more dreamy and colorful than fairy lights! So first, buy a chain of fairy lights with hanging clips attached to it. Set the fairy light on a wall. Start from one corner of the wall and go to the other end of the wall and move downwards. You can also make a zigzag pattern using the chain of fairy lights. Now select the best family photos or your clicks. Hang them with the help of the clips attached to the lights. Done?
Now light the fairy lights! I am sure you would love this decor idea. It looks so bright, vibrant, and alluring that you would fall in love with all those stories being told in the photographs!
 6. Surround The Clock With Photographs: 
If you have a transparent clock on one wall, you have the opportunity to decorate the area beside it. Just make some small frames of family photos or clicks and hang them around the clock. You can even directly paste the printed photos surrounding the clock. To make it more interesting, you can add your portraits from an early age to your current age. As if you are aging with the time, with each tick of the clock!
This is an easy DIY decor idea that can be implemented to have a cute interior. The idea is simple but looks very unique in the living room.
7. Cover The Wall With A Lot Of Photos: 
Not all love the neat and simple decor! Some may like to have a room that is so vibrant and happening that people can always be in a festive mood. To do that, you can make as many frames as you can and hang them on an entire wall. Start from the top and hang versatile photos across the wall. You won't need to follow any pattern. Just go on placing the frames on the wall. Add ceiling lights or fairy lights for a brighter look. 
This decor would simply stun and surprise your guests! They won't just stop viewing across the wall! Such a happening and beautiful decor idea, right? 
7 Types Of Photographs To Use In Living Room Decor: Know The Types
In this article, I won't only mention the ways you can arrange the photographs in the room. Besides, I would mention what kind of photographs you can use to decorate the living room. Because not all may have the idea of using photographs in the living room. So if you are recently thinking of it, you would need these ideas. 
A variety of photographs can be hung or put in the living room. You can simply choose a family photo or think out of the box. Don't worry. On your behalf, I have done enough research and found some amazing ideas. Here are the best 7 types of photographs you can use to decorate your living room: 
1. Family Photos: 
You can use the most happening and beautiful family photographs to decorate a wall in the living room. It not only shows your family values but your guests also love seeing those. In fact, each photograph can initiate a conversation! You can reminisce about your old days after years, sitting in the living room with your family. Or maybe you can tell travel stories to your next generation while viewing the photos. 
So yes, family photos in the living room are truly heartwarming and homely ideas to decorate the room.
2. A Monochrome Portrait: 
An elegant and classy idea is to hang a large monochrome portrait of yours. Okay, not necessarily yours but can be one of your family members too. You can even cancel this idea and hand a portrait of a random farmer, a woman, or any person that is impressive enough to stun people. As portraits are powerful and impactful, it becomes the focal point of the living room. 
A monochrome portrait makes the space more meaningful, thoughtful, and soothing. It always leaves an impact on the viewer, isn't it?
3. Your Favorite Quotes: 
This is a modern and recent idea to decorate the living room. In this, you can pick some of the best quotes by your favorite poet or singer, or philosopher and frame them. Hanging your favorite quotes expresses who you are and also engages your guests. A wall full of quotes is a thoughtful decor idea, looks beautiful and sleek, and also colorful frames add spark to the room. 
If you are a reader, you would definitely love to hang your favorite quotes on the wall. A truly unique photo idea, agree or not?
4. Motivational Quotes: 
This may sound like a very corporate decor idea but can look great on formal living rooms. Living rooms with a very formal interior can surely have motivational quotes framed and hung on the walls. Funky fonts, colored frames, and different frame sizes can make the look a bit informal if you want it like that. You can pick up some positive motivational quotes that you love. This shows your spirit and gives a positive vibe in the room. 
For a formal yet positive look, you can choose motivational quotes, frame them, and hang them on a wall in the living room. 
5. A Painting: 
You must have surely thought of hanging a painting in the living room, haven't you? It is one of the most classy as well as common decor ideas. You can choose any painting of famous artists or a local artist to adorn your living room in the most elegant way possible. You know there is nothing better than installing a piece of art in the living room!
To mesmerize all your guests and illuminate the beauty of the room, even more, hanging a painting is one of the best ideas to think of. 
6. Display Your Clicks:
Now if you are a photographer or have clicked some amazing photos, why not display them in the living room? Many are fond of clicking on nature, architecture, monuments, roads, etc. and they can surely frame them and display a collection in the living space. Your hard work can be appreciated by people and displaying them would also save up your work. Needless to say, they would definitely adorn the wall!
If you have some beautiful clicks, go and frame them to hang on the living room wall. They do deserve to be on the wall despite being on the SD card!
7. A Collection Of Photographs: 
Just like people love paintings, some love to collect photographs. Skilled photographers have excellent stories to tell and you can collect those pieces to hang on your living room wall. You can make small frames of the best photographs (that you like) and hang them on a wall. With ceiling lights on top of it, the photographs will look more realistic and gorgeous. 
One of the easiest yet smart ways to decorate the living room is to get a collection of photographs. So why not choose this option?
Related Questions: 
What Pictures To Put In The Living Room?
You can use any type of picture in the living room. Any photo or painting that blends well with the interior can be installed. 
Most people prefer to hang monochrome family images. Monochrome images blend well with all types of decors. But you can choose colored photos too. Now if you come to choosing the photos, it is totally up to you. You can either choose family photos or display a collection of wildlife, sunset skies, birds, flowers, water bodies, or anything you admire. Just make sure it expresses your taste and choice. 
Do Pictures In The Living Room Become A Focal Point? 
The straight answer is yes. If you can combine lighting and position the picture at the right place, pictures would become a focal point in the room. 
For instance, if you put a large portrait in the room with a spotlight on the top, all the eyes in the room will be on that portrait. Similarly, a collection of family photos with fairy lights would surely become the main attraction of the room.
So you see, lighting is also a factor with the photograph to make it a focal point. Also, do the photo decor on the longest wall of the room to make it visible and prominent. 
What Pictures To Hang In A Small Living Room?
If you don't have much space in the living room, don't worry. You can still decorate it with photographs of your choice. Just change the framing. 
For small rooms, use small photo frames. Using multiple small photo frames would attract the eyes on that point. If you add large photos, it alone would shrink the room and hold all the attention.
Instead, if you create a collage, it would look much better and give a feel that the room is spacious. And the photo choice would be yours; just keep the frames small. 
How Do You Show Pictures On The Wall Of Your Living Room?
To show pictures on the wall of a living room, you have to maintain a balance in the decoration pattern. Don't overwhelm the wall with multiple frames and photographs. 
If you are willing to hang multiple photos on a wall, frame them in different shapes and sizes to create a balance. Frames of the same size would look monotonous and cause eye fatigue. Now if you have only one picture, frame it large and hang it on the middle of the wall or just above the sofa/ chair. Contrast the frame color to the wall color. Decorate it with a spotlight to highlight the picture. 
If you do it right, showing a picture or highlighting it isn't difficult. Just put the focus on the picture. 
Should You Put Picture On Every Wall Of Your Living Room?
I won't recommend putting pictures on every wall of your living room. This is because it looks clumsy as well as disrupts the balance in the room. 
When you put pictures on multiple walls, people won't be able to focus on a single piece. So the focal point is not determined when multiple walls are decorated with pictures. But with pictures on one wall, people naturally notice them. It also gives a tidy decor and a clear vision of the pictures.
However, if you want to display pictures on more than one wall, don't put too many of them. Choose two opposite walls and hang pictures with adequate gaps making them noticeable. 
So yes, I won't suggest you put pictures on every wall. But if you do so, make sure they are all noticeable and eye-soothing. 
How High Should A Picture Be Hung Over A Couch?
It is important that you place the picture at a suitable height especially when you place it over a couch. The decor has to be eye-pleasing and soothing. 
The ideal height to hang a picture is in the middle of the wall. This usually keeps the picture at eye level making it more prominent and noticeable. Now if the couch is of low height, the middle of the wall is compatible with that. But with high couches, you should leave a gap of 4 to 6 inches between the couch and the picture. 
Placing a picture at the center of the wall or 4-6 inches above the couch are two ideal positions to make the picture noticeable.
How Do You Hang Pictures Vertically And Horizontally In Your Living Room?
If you want to add photo frames both vertically and horizontally to your living room wall, here are some ideas:
Place one horizontal and one vertical frame side by side. 
Put two horizontal frames at the middle along with the height, and one vertical frame on each side of that. 
Create a border with vertical frames and put the horizontal frames in the middle. 
Put one large vertical frame in the middle and put horizontal frames along the sides of that.
Put one horizontal and one vertical frame side by side and repeat the same below it. But this time, the horizontal frame would be beneath the vertical one. 
These are some ways to match the vertical and horizontal frames in the living room wall. 
Conclusion: 
To conclude, I would say you have to be thoughtful while choosing the photos. Be expressive and think of how the decor would look. Mix your taste and blend with the ideas proposed in this article to make the decor unique and pleasant. 
So select the pictures and start planning the interior of your living room!