On a beautiful Sunday morning, while sipping coffee, you noticed something was missing from your old wall. You are suddenly craving a scenic view or natural lighting. Don't worry, you're not alone. However, you can easily solve this problem by installing new construction windows in an old house.
There are usually two types of windows available for your home- replacement windows and new-construction windows. When it comes to remodeling an older home, most people choose new-construction windows because of their innovative sizes and designs.
If you are considering placing new-construction windows then this article will show you how to install new construction windows in an old house. Here I am going to tell you about 5 easy DIY steps that will help you to complete the process within a short period of time. These steps have been learned from experience over the years.
5 Easy DIY Steps To Install New Construction Windows In An Old House: 
A new construction window can be added to an old house. When deciding where to put the window, keep electrical wiring and plumbing in mind. Installing a new window into an existing wall may appear difficult, but if done right, the results may be stunning.
Installing the window requires time and patience. If you are determined to do it yourself then it would be smart to find yourself an assistant. Follow my comprehensive guide to installing new-construction windows to get the task done easily:
Step 1- Measurement And Requiring Tools:
While putting a new window on an existing wall measurement is crucially important. Double-check the measurement before trimming a hole into the wall. 
Required Tools:
There are tools that you require to complete the whole process:
Hammer
Measurement tape 
Drill machine or cordless drill 
Circular or reciprocating saws
Caulking Gun
Utility knife 
Stud finder 
Safety glasses 
Gloves 
Screwdriver bit
New-construction windows 
Wood putty 
Flashing tape
Step 2- Remove Existing Window:
If you are setting a new-construction window in a place where a window existed then carefully remove the old window. Use a utility knife to slice any chalk. The sash part falls first, so be ready to hold it. With the help of a screwdriver detach all the screws and remove the window. 
Step 3- Create A Hole In The Wall:
Make a hole in the wall where the window will be installed using the right dimension. This might be a time-consuming and nasty task. In this case, you should place a cloth or mat to avoid strewing the entire area.
Step 4- Frame The New-Construction Window:
After you've made an opening, frame the window and make sure it's structurally sound. It is best to follow the manufacturer's instructions, which are included in the reference book that comes with the window. Put the stud underneath the window opening to support the windowsill.  
Step 5- Install the window:
After installing lower shims, place the window by using nailing flanges or fins. The drill machine fits the parts quickly. You should also seal the top and sides. And then you are done. You just successfully installed new construction windows in your old house.
By measuring it diagonally, you may determine whether or not you placed the window crookedly. Check to see if the screws are securely fastened. Also, try not to cut corners. 
However, new-construction windows are used when a new house is being built or an old house is going through a major renovation. The outer body of these windows consists of nailing flanges or nailing fins, which help the window to attach to the wall. 
Some new-construction windows have detachable nailing flanges. These windows are more substantial and aesthetic than the replacement windows. Unless replacement windows are available in various types and shapes.
Related Questions:
Things To Consider Before Buying New Construction Windows: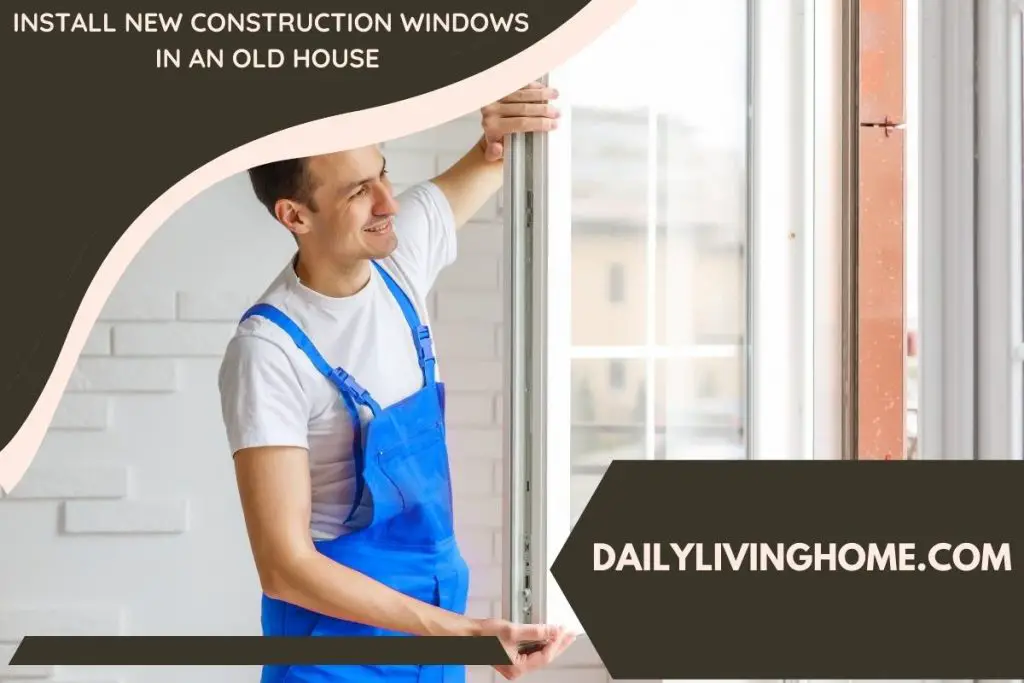 When renovating your house it is important to buy the correct materials as they cost a pretty good amount of money. Before making any purchase I recommend you do a little research.
If you are going to install the window without any professional help, then remember the following points:
Make sure the metal on your windows is well-locked and made of stainless steel as it has excellent durability and rust resistance. It also enhances the security of your windows.
Windows made of stainless steel last for more than a decade. That's why stainless steel construction windows are an excellent choice for both new and old homes.
While installing a new window you have to be careful about the height and width. When your window size is smaller or bigger than your measurement, you will face difficulties. As a result, you may need to go back to the shop again to return the windows that you just bought.
To avoid this issue, major the height and width accurately. I will recommend you use a measuring tape for completing the measurement. You can also seek the assistance of measurement experts. With that make sure to check the window sash and frame are mechanically fastened and well heat fabricated.
In the market, you will get windows that are available in so many different colors. Anyway, new-construction windows are all about aesthetics. So, buy windows that have matching color components.
If you have an old house, you'll want to choose windows that complement it nicely. This will surely make the house look more beautiful.
Advantages And Disadvantages Of Installing New Construction Windows In An Old House:
Windows let in a lot of natural light and air, which is also beneficial for your health and mood. Adding extra windows to your home is thus always a smart option. Adding a window is always beneficial for the home as well as for the health.
However, below I point out the both advantages and disadvantages of installing new construction windows in an old house:
Advantages:
The advantages of new-construction windows are that:
They are always in stock.
Comparatively easy to install, 
These windows are weather-tight.
More cost-effective.
No loss of glass area.
Beautiful.
Disadvantages:
The disadvantages of new-construction windows include:
Expensive.
A bit problematic while trimming.
Might take a long time to install. 
Can You Install A New Construction Window In An Existing Home?
In an existing home, you can install a new construction window in addition to or instead of replacing an old window. It is a good idea to choose new construction windows because they are more sturdy and will not obstruct your view.
If you would like to know how to frame a window in an existing wall or how to add a window to an exterior wall, you need to speak to a home construction professional.
Are New Construction Windows Installed From The Inside Or Outside?
The installation of windows can sometimes be partially or completely carried out from the outside. The replacement window installation process may have to be performed inside your home, depending on certain features of your home's window openings.
So, you are allowed to install construction windows from both inside and outside. But you have to decide on the basis of your home structures. 
Can You Replace Windows With New Construction Windows In An Old House?
New construction windows can be used for replacement window projects in two ways. Generally, a replacement window has a different nail fin from a new construction window. And that's the difference between these two ways.
Way-1: You can use a new construction window with the nail fin if you are removing the exterior siding from the wall down to the wall studs.
Way-2: The nail fins on the windows can be removed if you don't plan on exposing the wall's framing, so you won't have to reorder windows without them.
When To Choose New Construction Windows?
If your existing house is undergoing extensive renovations, new construction windows are the greatest solution. Furthermore, you wish to place an additional window to enhance the elegance of the property.
When your older window is severely damaged and necessitates extensive carpentry work, it is time to install a new construction window. Replacement windows are less expensive, but they appear substandard and do not last long. 
Final Few Words:
A house's spirit is represented by its windows. They not only improve the appearance but also the value of your home. But you may not pay much attention to windows unless something goes wrong.
However, by following my showing process you can easily install new construction windows in an old house. It may take some time to complete, but the result will definitely be worth it. You can also check out my other blog posts on this website as well.