When the aesthetic of the room matters, there is no substitute for customized closets. According to the interior of the room, you get to craft a closet that suits them best. However, the cost of closets by design often tense the buyers. But before you reach any conclusion, you must know about the expense first. 
Generally, closets by design are not too expensive. Depending on the material, size, and design, you can get customized closets at a cost of $1000. This is just the starting range that can spike up to $50,000. But those expensive pieces are for large spaces with premium designs. 
A lot of factors work behind determining the price of custom closets. In this article, you would get a clear idea about how much to invest in closets by design and get some additional information. So let's get started!
Price Of Closets By Design: The Standard Prices
As it is impossible to tag a certain price for custom closets, I have attempted to give you an estimate. You see, there are a variety of closet designs and patterns. So first, I want to mention two categories of customized closets. Because the pricing varies according to the types. 
1. Wall Mounted Closets By Design:
These are closets that are attached to the wall. Wall-mounted closets save floor space and give a sleek and elegant look to the room. Below is a table mentioning the costs of these closets:
| | |
| --- | --- |
| Types Of Wall Mounted Closet | Cost Per Linear Foot |
| Basic color and design  | $135 |
| Basic design with accessories | $185 |
| Upgraded design and color | $205 |
| Upgraded design with accessories | $235 |
2. On Floor Closets By Design:
These closets come in a wide range of color and design options. Floor mount closets are placed on the floor and moved in any space of the room. Popularly used in luxurious houses, the variety in designs makes it available in different ranges. 
Below is a chart mentioning the standard prices for floor mounted closets:
| | |
| --- | --- |
| Types Of Floor Mounted Closet | Cost Per Linear Foot |
| Basic color and design  | $200 |
| Basic design with accessories | $235 |
| Upgraded design and color | $240 |
| Upgraded design with accessories | $285 |
| Premium design with accessories | $330 |
---
My Recommended Best Wall Mounted Closet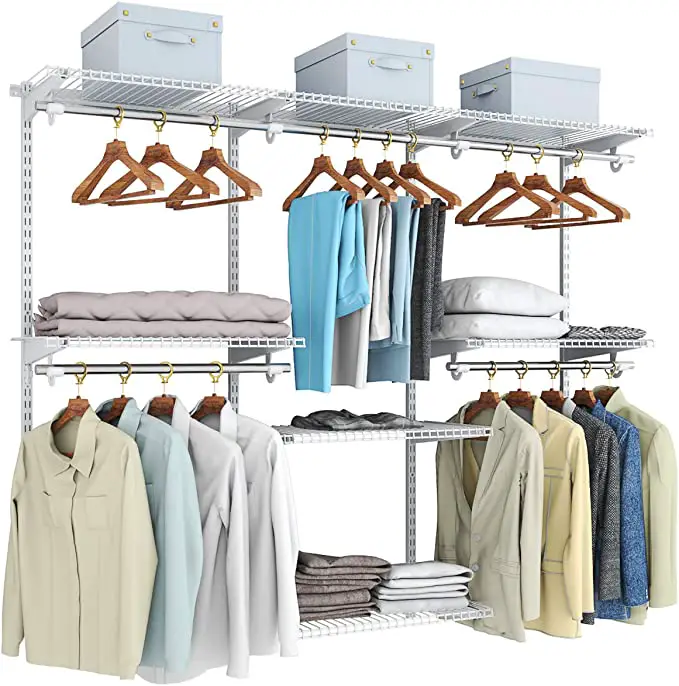 If you're looking for a long-lasting, durable and organized Closet with the latest specs at a cost-effective price, I'll recommend trying out the Tangkula 4 to 6 FT Custom Closet System. Why?
Constructed with premium steel which makes the closet Sturdy & Durable.
Made of 6 wire shelves and 4 hanging rods helps Maximize Space Utilization.
Easy to assembly and excellent customer service!!
No need to purchase additional accessories to assemble the Closet. All essential parts are included in one package.
And the best thing is, compared to other Wall Mounted Closet available in the market, Tangkula 4 to 6 FT Custom Closet System's shelves and clothes rods are freely adjustable.
You'll find its Cheapest Deal on Amazon. Check Out The Latest Price Here.
---
5 Factors That Affect The Cost Of Closets By Design: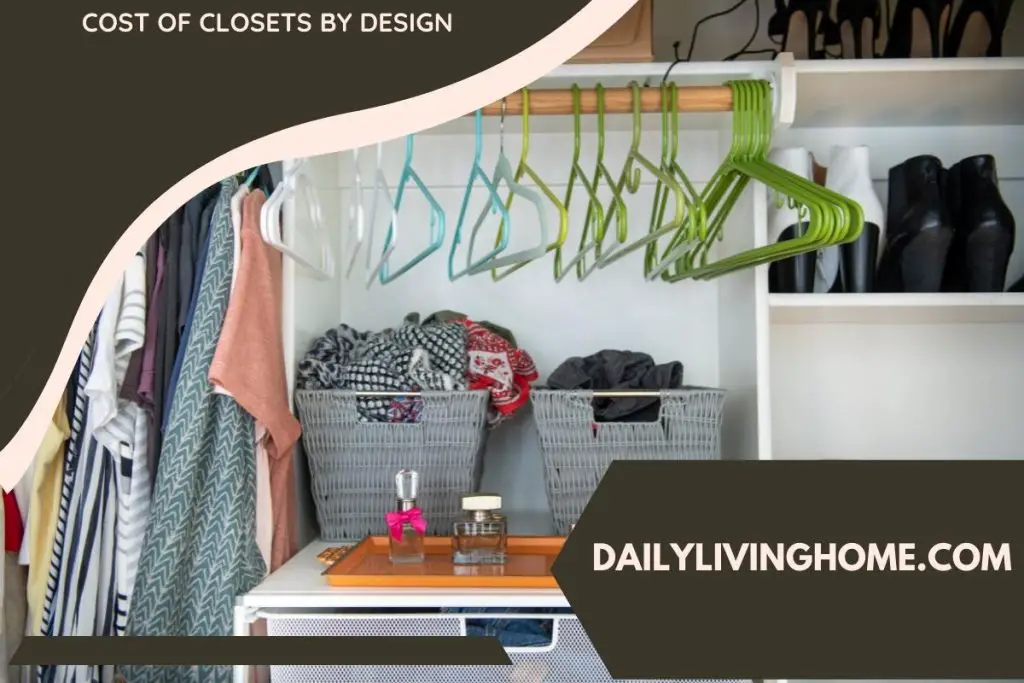 From the beginning, I have been mentioning that there are certain factors that determine the cost of custom closets. As you recognize these factors, you get to know what you need and can set a budget accordingly. 
For your convenience and to give you an estimate of cost, I am mentioning 5 factors that affect the cost of closets by design:
1. Design And Model:
As a variety of design options are available in custom closets, the prices vary. If you want a particular design or pattern, the cost would be defined according to how difficult it is. Also, some may need premium materials to make a bright and unique design. 
Similarly, versatile closet models are there. They are of different shapes and patterns. Some are old-school and some are very new in the market. If you choose a new and rare closet shape, the price would be high. Some have metal carving and 3D images on them that spike up the cost of the closet. Thus the design and model of the closet highly affect the cost of custom closets.
2. Size: 
Naturally, the size of the closet by design determines the cost of it. If you choose a wide and long closet design, it would cost more than a minimalist closet. For instance, a wall closet covering an entire wall would be more expensive than a closet that covers only half of the wall. Similarly, a small floor-mounted closet would cost less than a bigger closet. 
The bigger the closet, the more expensive it is. Therefore, the size of the closet you need would decide the price for it. 
3. Material: 
The material of the closet is another factor to decide the price of the closet. You can go wood, plywood, particleboard, melamine, wire, metal, steel, etc. for making the custom closet. So when you choose a material for the closet, this decides the cost. 
For instance, wire, steel, and plywood closets are generally available at minimal costs. On the other hand, wood and melamine closets are available at both low and high costs depending on the quality and design. Therefore while thinking of the cost, think of which material you want for your closet. 
4. Installation: 
Not only do you pay for the closet price but also invest in the labor and installation charge. Especially when you install wall closets, the labor cost would be high. You can estimate to pay $45 to $85 to the laborers per hour. Basically, they charge 10 to 20% of the total price invested for the closet. 
The labor expense doesn't end here. If you need any change in the closet or repair a part of the closet, you need to pay the labor cost. So besides the closet itself, a huge investment goes to the laborer. 
5. Accessories And Add-ons: 
Besides the general structure of a closet, you may need some accessories too. Accessories like lighting, hanging stands, and extra chambers would spike the price of the closet. Below is a chart mentioning the approximate costs for different add ons that you may like to have: 
| | |
| --- | --- |
| Accessories | Cost |
| Jewelry drawer | $55 per unit |
| Hamper | $99 |
| Shoe rack | $35 per rack |
| Mirror | $100 to $300 |
| Tie and belt drawer | $20  |
Depending on which add-on you need, you would need to pay some extra bucks. 
Related Questions: 
How Much Should You Pay For Closets By Design? 
Ideally, you can think of investing $20 to $40 per square foot of the area of the closet. Though the price would be defined by the material, design, size, and type of closet, you can expect to pay between $20 to $40 per square foot of area. However, you may pay less or more depending on which design and quality you choose. Also, the price varies from seller to seller. 
How Much Does Modular Closets By Design Cost? 
Modular closets are extremely useful and versatile accommodating all the necessary items. They are widely available and cost therefore, usually remain affordable. So you can get a top-notch readymade closet of small size at $800. But for a bigger and exclusive modular closet, you need to pay at least $5000 to $10000. For premium features, you can pay up to $40,000. 
Does Custom Closet Increase Home Value? 
Custom closets do increase the value of a home, indeed. As they are extremely stylish in look and versatile in usability, people very much prefer such an item in the house. With an excellent custom closet in the house, you can get back 56% or more of the investment you have made. So clearly, you get a good value for the closet by design. 
How Much To Pay Closet Organizers? 
If you are hiring a closet organizer, he would make the system and arrange the closet properly. But for that, a closet organizer may charge between $80 to $140 per hour. The charge would depend on the task he is doing and how complicated the task is. Therefore before you hire a closet organizer, first check how much you would need to pay so that this doesn't become a hassle later.
Are Closets By Design Good Quality? 
If you choose a high-quality material to make a closet by design, it will be of good quality. It offers a long-term and reliable service if the material and finishing are good. So whenever you get a closet by design, make sure that you choose a trusted company to make your closet by design. The material, finishing, and design matter to get a good quality closet by design. 
Is It Worth Buying Closets By Design? 
In my opinion, it is a good idea to have closets by design. This maximizes the usability of the closet, matches well with the interior, as well as increases the resale value of the house. Also, this is a long-term investment in which you get the benefits for several years. Living becomes simpler and organized with a custom closet. So yes, it is worth it to buy custom closets. 
Final Thoughts: 
Investing in a custom closet is always a good idea if you can afford it. It is not very cheap, but you can find a suitable one at a reasonable price. However, never compromise with quality as it is a long-term investment. 
Considering all the factors, have you decided on buying a new closet by design?