While buying or ordering a closet, the seller may ask the size you want. He won't expect to hear answers like 'large' or 'small' but would want an actual measurement from you. And to tell how deep the closet would be, you need to have a clear idea about the sizes of closets. Knowing the dimensions would help you define what closet size is right for your home. 
Ideally, a closet should be at least 24 inches deep. This is the standard measurement. A depth of 24-inches would give enough space for clothes to fit in the space without touching the back wall. However, if necessary, the closet can be made deeper. 
To go deeper into the matter, I have studied it in detail and come up with this article. Here, I have explained A to Z about closet measurements. This will guide you to get the right closet size for yourself. So let's get started!
Standard Depth And Dimension For Closets: Two Different Types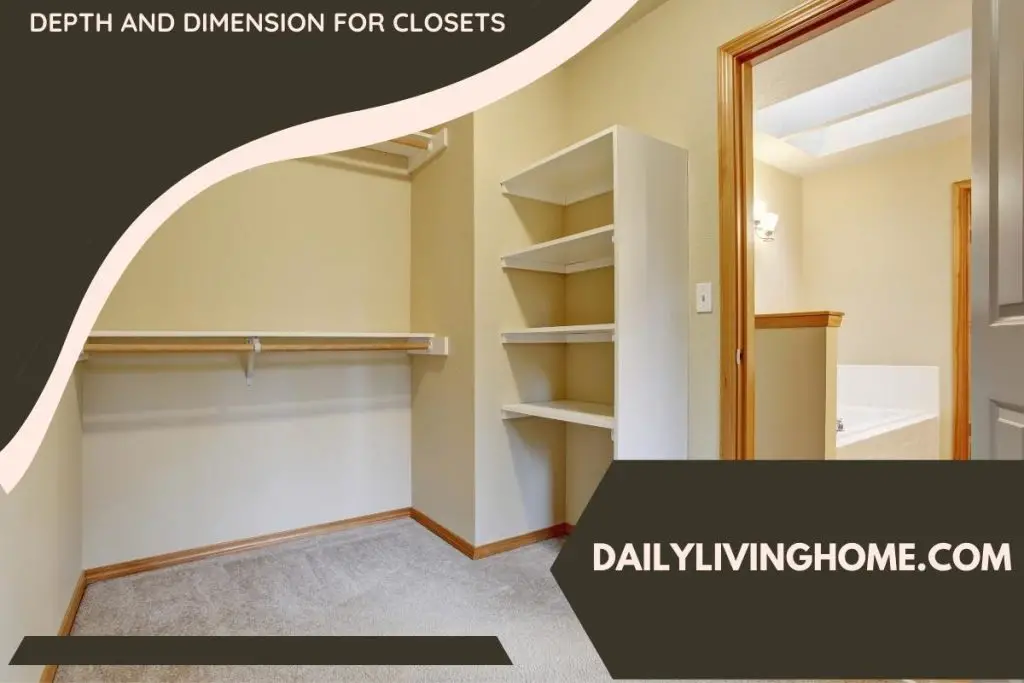 It is not right to define a certain measurement for closets. As different people would have different preferences, one size of the closet may not suit all. This is why I would only suggest the standard size of the closet but won't mention the ideal one. 
But before we start knowing the sizes and dimensions, know that there are two types of closets: 
Reach-in closet : This is the compact box-like cabinets for storage that you keep across one wall. You need to reach in the closet from outside, literally;
Walk-in closet : A closet like this is large with space for walking across it. It occupies more than one wall and has boxes of different sizes to accommodate versatile items.
As you can see that the structure of these closets is completely different, you can assume that the dimensions would vary largely. Below is a comparison table mentioning the standard sizes and dimensions for each type of closet: 
| | |
| --- | --- |
| Types Of Closet | Standard Size |
| Walk-in coat closet | 4'D x 4'W, 72" wide |
| Reach-in coat closet | 22" D with 24" depth |
| Walk-in linen closet | 32'D x 32'W, 72" wide |
| Reach-in linen closet | 17" D x 19- ¾ W with 16" depth |
The aforementioned figures are the standard sizes for closets. In other words, you should not go below these numbers as it would not be convenient for storing enough items in it. 
Let me explain it a bit more to let you understand the dimensions of these two types of closets: 
1. Walk-in Closet: 
As mentioned in the chart, a walk-in closet needs to be at least 4 feet wide with 4 feet depth. Inside the closet between the shelves and hanging sections, leave a gap of 24 inches. 
For hanging clothes along both the side walls and back walls, the depth needs to be 6 feet. If you don't need that, 4 feet depth will be enough. 
2. Reach-in Closet: 
As a reach-in closet is used from the outside, a too deep closet would be hard to reach. So that standard depth for a reach-in closet is determined 24 inches. But if you have heavy and long items to store, you can choose a depth of 28 inches to conveniently accommodate them. 
If you eliminate the hanging space, a 22-inch reach-in closet will do the job. Also, remember that the return wall of the cabinet should be below 12 inches. 
Depth Of Closet According To Storage Items: Standard Dimensions
The dimension and depth of a closet hugely depend on what you are going to store. Not all closets have to be big. For storing linen, a cozy closet would suffice. But to store formal attires, shoes, lingerie, etc. under the same closet, the space has to be versatile and large. 
Below is a list of items that you may store and the space it would occupy: 
Coats and formals: a rod of 2 inches for each dress;
Suits and blazers: rod of 2 ½ inches for one item;
Blouses and shirts: rod of 1 inch for one piece;
Folded skirts, pants, trousers: 1 to 1.5 inches of rod for one item;
Shoe shelf: 9 to 8 inches of space for each pair of shoes;
Folded linen shelves: 9 to 12 inches wide and deep shelves;
For hanging items, you can get closets with different dimensions. Below is a chart mentioning the depth of hanging sections depending on what you want to store: 
| | |
| --- | --- |
| Types Of Hanging Sections | Dimension |
| Long hang | 64.5 inches |
| Medium hang | 52.5 inches |
| Double hang | 40.5 inches |
5 Tips To Determine The Right Closet Depth: Numbers To Remember
By now you have a clear idea about the standard depths and dimensions of closets. But once again, let me remind you of some very important points that you can't miss out on:
Tip 1: Don't choose a closet that has a depth of fewer than 24 inches. This is the standard depth that offers enough space for your items;
Tip 2: 84 inch of height is standard for a double hanging system and to accommodate large overcoats, blazers, and formals;
Tip 3: Shelves for linen and folded clothes should have a gap of 12 inches between each other;
Tip 4: Shoe racks for women's footwear should leave a gap of 6 to 7 inches;
Tip 5: Your casual and daily life dresses would need 11 inches of space in the closet;
Note down these tips as they can guide you to get the right size and depth of closet. 
Related Questions: 
Can A Closet Be 22 Inch Deep? 
Yes, a closet can be 22 inches deep. Extremely minimalist and small closets can have a depth of 22 inches. But note that it won't accommodate enough clothes and accessories in it and may even reach the back wall. So, for a more organized and spacious closet, you should choose one with at least 24 inches of depth. This is the standard depth that can make space for most of the common items one can store. 
How Deep Are Closet Cabinets?
Many closets would also have cabinets with them. These cabinets are excellent for storing accessories, lingeries, ornaments, cosmetics, and almost any item you want. These cabinets can have a depth between 14 to 24 inches. According to the material you are willing to store, you can customize the depth of the cabinets. But to be on the safe side, you can always go for a 24-inch depth. 
How Deep Are Closet Drawers?
Closet drawers are very useful to keep things organized and sorted. You can use separate drawers to store different items so that they don't clutter one space. Now drawers can be of different widths and depths. The standard depths for closet drawers are 14 inches, 16 inches, and 20 inches with a width of 18 inches, 24 inches, and 30 inches respectively. 
Conclusion:
To conclude, I must mention that don't choose the wrong depth and dimension of the closet. Have enough space in the closet so that all your items can be stored in it. According to your need and requirement, choose the right dimension and depth of the closet. But don't go below the standard depth. 
Are you now confident enough to choose the right depth of closet?