We all love an excellent interior for our homes as well as the workplace. A beautiful interior not only attracts your guests but also creates a positive vibe. It is like celebrating beauty all the time when an aesthetically pleasing interior is designed. But as common people have only a little idea about interior designing, it is always a good idea to hire a professional interior decorator. 
However, many people struggle to find an interior decorator who can craft the interior according to their requirements. Not all decorators are experts and not all can make it the way you want it. But how would you know who is the suitable interior decorator in your area? To pick the best one, you need to do a bit of research and follow some tactics. 
Though the research part will be yours depending on from which area you belong, I can guide you through the process. Recognizing the importance of an expert interior decorator, I have summed some tips and points to find the best interior decorator in your area. So stay with me!
6 Tips To Find An Interior Decorator In Your Area: Find The Best One
To find the best interior decorator in your area, you need to set some parameters that the decorator has to fulfill. As different people have different choices, they should select a decorator who can work according to their plan and modify it. You only provide an outline to the decorator and his task is to plan the whole layout of the house or workplace with his expertise and creativity. 
While some decorators work according to the projects they usually do, others can customize the designs. Also, decorators have different levels of expertise and experience. Some decorators are so skilled that they dare to experiment with different new and contemporary ideas. Others are excellent at working with the same kind of projects that are commonly used. 
So you see, among the decorators, there is a lot of variation. Thus to find the best one, you need to be very strategic and choosy. And to make the right choice, setting some parameters can help you out. 
So here are my tips that would guide you on setting the parameters while finding the best interior decorator near you.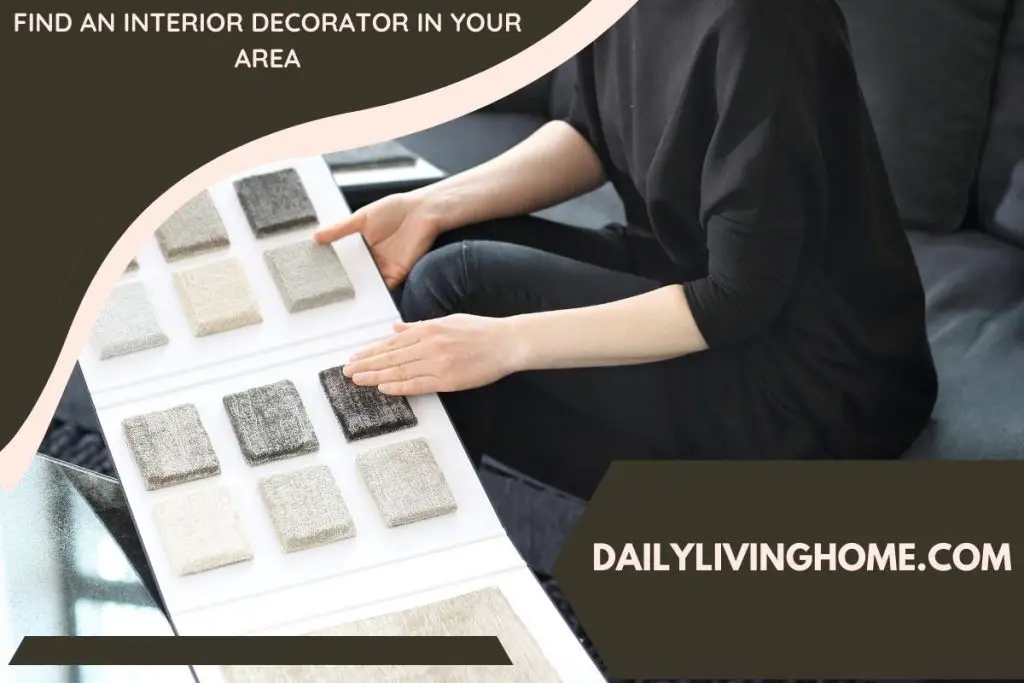 Tip 1: Keep Your Eyes Open And Look For Good Designs Around You
If you are looking for a decorator, you have to look for designs first. Around you, you can notice a lot of beautiful interiors. Be it an office you have visited or a house your friend has built recently, you can look for inspiration in such places. Therefore, whenever you like a design, appreciate the owner and ask about the decorator. That is a great way to find a skilled interior decorator. 
Besides, a lot of local magazines, newspapers, online blogs portray beautiful interiors with creative and unique designs. Subscribe to such pages and get design ideas for your interior. With such vibrant interior photos, you are most likely to get the name of the decorator too. This makes it easier for you to contact him. 
My point is, you have to keep your eyes open to look for unique and beautiful designs. Once you find a suitable design in your area, you can easily locate the decorator by asking the owner. 
Tip 2: Post Online Ad And Get Proposals
Posting on social media is a great way to locate local decorators. In fact, you may find online groups dedicated to helping the people of your locality. Post an advertisement in these groups to let other people help you out in finding an interior decorator. 
Besides that, you can post on your timeline and stories and let people know that you are searching for an interior decorator. Now not only do other people help you but interior decorators also may notice your post and contact you.
Through direct or third-party assistance, you get to connect with several decorators in your area. As you get in touch with them, they will send you proposals. That is when you get to choose the right one for your interior. 
Receiving proposals will help you understand what type of work a particular decorator is interested in doing. In this way, you can compare the works of different decorators in your area and select the one you like.
So, posting online and connecting to several decorators and receiving proposals is a great method of finding a decorator. 
Tip 3: Visit Nearby Decorator Offices And Look For Portfolios
The most common way of finding a suitable interior decorator in your area is to visit the decorator offices in your location. You can simply Google it and find the decorator offices near you. Now pick the top five decorators from the list and go to them physically. 
Meeting different decorators in your area would give you a clear idea of what designs you can expect. You must have a rough idea of what you want before you visit them. Though the final project plan would be done by the decorator, you should provide an outline. After you propose your idea, see and compare the portfolios of each decorator. 
The portfolio would tell you about the work the decorator has done previously. Look for the finishing of the work and the creativity of the decorator. Make sure that he is able to craft something unique and new. At last, discuss your idea and see if he can mend his expertise to create an extraordinary interior, just as you want it to be. 
Tip 4: Check Online Ratings And Reviews
Another convenient and easy way to find an interior decorator is to check online reviews and find the best one. Recommendation from other people basically authenticates a service. When the majority of customers praise a decorator's work, we can assume it to be reliable. 
To check for online reviews, Google's interior decorators near me. You are likely to find the social media pages and websites of the top decorators in your area. Browse the website thoroughly, check the portfolio, and look for reviews. You will find detailed reviews on Facebook pages. Don't check the rating only but also read the reviews and comments.
For assurance, you can contact some of the reviewers and know details about the decorator. If you find it reliable, go and contact the decorator. Otherwise, check as many reviews as you can learn the follower number, and check the portfolio to get an idea about a decorator. 
Tip 5: Set A Budget And Then Go To Search
Not all decorators offer the same service at the same price. The pricing may fluctuate depending on the decorator, its quality of work, and its brand name. Also, the design variations decide the cost of the work. So deciding on a budget prior to contacting the decorator can help you shortlist. 
Think of how much you can invest in decorating an area. But before you assume a budget, you should also know the usual cost of interior decorating. Otherwise, the assumption would be inaccurate. So to help you with this, I am mentioning a list of prices that you should know. The average costs would give you an idea and you can set a budget accordingly. 
| | |
| --- | --- |
| Parameters For Costing | Average Cost |
| Cost per hour | $50- $150 |
| Cost for consultation | $100- $300 |
| Overall cost | $2000- $11,000 |
| Markup on materials | 10%- 40% |
Now you can think of setting a budget. After setting the budget, get the proposals from the potential decorators and ask if they can provide the service within this budget or not. Find the one that can provide the service within your budget. 
Tip 6: Search In Online Decorator Apps
Fortunately, we have the Internet with us to make each task easier and faster. And with a bunch of online services, the tasks become even more convenient. Online decorator apps are truly a blessing for those finding a decorator in a particular area. 
Online decorator apps provide you with a lot of design options. You can choose a particular style that would match the best with your interior. You can even consult an expert via the application to know more about a particular theme. This would expand your idea of home decor. Next, you can ask for recommendations on which decorator is the best in your area. 
So if you want to make the task easier, simply install one of the leading decorator apps and browse through it. There you can find useful information regarding the designs and the best decorator in your area. 
Frequently Asked Questions: 
How Much Does An Interior Decorator In My Area Cost Per Room? 
The cost of hiring an interior decorator varies from area to area. Also, the service quality and brand name affect the pricing. But still, it is possible to assume an average cost. 
To decorate and plan the layout of one room, a skilled interior decorator may charge between $1000 to $7500. In the calculation of hours, a decorator would charge $50 to $150 per hour.
The decoration and idea would determine the cost as well. So you should discuss your plan first and then think of the budget. You can also tell your budget per room to the decorator so that he can propose a suitable design. 
Is There A Difference Between An Interior Designer And Decorator?
While finding a decorator, don't expect him to do the job of a designer. Many people mix up between an interior designer and decorator and end up finding the wrong connection.
To make the difference simple for you, I am mentioning three points here that would clarify the disparity between the two:
An interior designer designs the whole layout of the room while the decorator only takes care of the decoration of the room. 
A designer would build the interior but the decorator would decorate a readymade room. 
An interior designer can be a decorator too but the decorator can't be a designer. 
Note the differences first and then find a suitable decorator in your area. 
How Do You Choose An Interior Decorator In Your Area? 
Even when you have a bunch of good decorators in your area, you may feel confused. In that case, you have to be choosy and selective about your choices. Here are a few ways of picking a suitable interior decorator:
Choose a style and find a decorator who does similar projects. Because not all decorators work on the same project. 
Look for proposals and portfolios to see whether their ideas match yours or not. 
Find someone who is willing to customize and is creative with his works. 
Set a budget and see who can serve the best within your budget. 
Appreciate the experience of the decorator. An experienced decorator should get priority. However, make sure that he is versatile and creative. 
Check the reviews and ratings to know the quality of his work and then decide. 
Interview several decorators before finalizing. Interviewing will show his level of expertise, knowledge, dedication, and sincerity. 
Take note of these points and choose the best decorator in your area.
Is It Worth Hiring An Interior Decorator In My Area? 
If you are willing to have a picture-perfect interior, hiring an interior decorator is a good idea. In fact, some people have no expertise in interior decoration. For those people, hiring a decorator is totally worth it. 
If you think that you have an adequate idea about home decor but need a little guidance, simply consult a decorator for assurance. A consultation would simply approve your idea. But if you are clueless about how to decorate an interior, it is better to leave it on the decorator. He would better suggest a decor idea. So yes, in both cases, hiring or consulting an interior decorator is totally worth it. 
Final Thoughts: 
Anyone willing to have mind-blowing home decor should consider hiring an interior decorator. Because without a decent and aesthetic decoration, no interior looks good. In fact, a dull interior can bloom with the right decoration. 
So take help from a skilled interior decorator in your area and get a ravishing interior!
You may also interested to read : How To Find A Phone Jack In Your House?