Applying a little creativity to the interior decorative columns adds a different dimension to the room. However, if you think a little deeper, it can be noticed that columns waste a lot of space inside, even if it enhances the beauty. 
As a result, you may not be able to place your furniture in the place you want, or you may have trouble walking. For some of these things, you have to know how to remove interior decorative columns after a while. To do this, you need to aim for something. No matter if you are not experienced in this field. 
Anyway, it is recommended you ask for help from an engineer or inspector as these need to be checked to see if the columns are carrying any loads or if they are built to fit. However, in this article, you will know the details of removing interior decorative columns.
6 Effective Steps To Remove Interior Decorative Columns: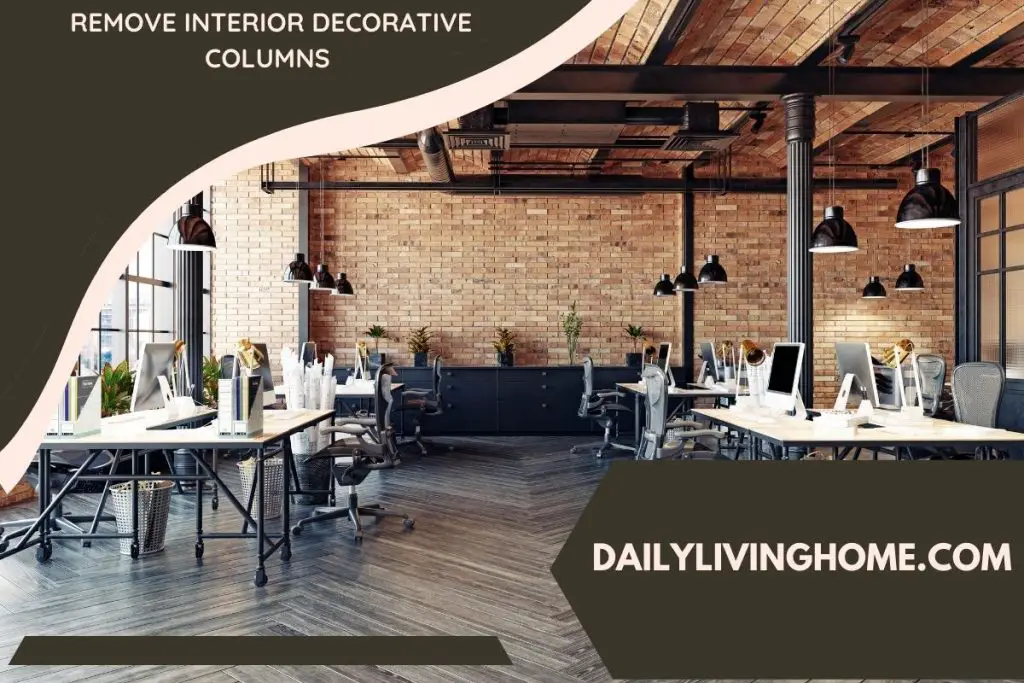 You do not have to worry about this, because if you are not good at it, you will notice some things and then have to decide. If you consider yourself a bit skilled, looking at a column may give you the idea that it is much easier to move. In fact, it depends on the ingredients.
Now, look at the steps to see how it needs to be done.
Step- 1: Inspect The Columns
Primarily, count how many decorative columns you have in your interior and which ones you want to remove. Some columns enhance the beauty but do not make your movement difficult or waste space.
Identify which ones need to be removed. It is essential to know beforehand what materials these are made of and whether they will be easy to remove at all. Still, it can be difficult for you to understand whether it is actually carrying a load or not. For this, take the help of an engineer who can understand it well. 
Step- 2: Measure The Distance
It is very important to measure the distance between your columns. Measure how far one column is from another. This decorative column does not need to be cut if it is not too close or does not cause you discomfort.
Measuring is also necessary when you do not understand whether it is a supportive or decorative column. Take a stiff and large ribbon and measure it alone or with the help of someone.
Step- 3: Decide Where To Cut
Even if it is not a supportive column, you still need to cut it in a specific way. Keep in mind that this is not very light even if you do not carry the load, so your careless cutting may endanger you, or you may inadvertently hurt yourself.
Cutting should not start from anywhere. This is good if you start cutting it 3 feet above the bottom. Then you can easily remove the upper part and the lower part.
Step- 4: Start Cutting Carefully
Now it's time to cut it. As mentioned earlier, if you are not proficient, you can take an engineer's help. However, you can cut the decorative columns yourself if you have learned something before. You also need to know how to use a saw. Now start cutting it 3 feet above the ground with a saw.
Make sure all sides are cut evenly by making rounds. Remember that it will remain the same even after cutting until you remove it.
Step- 5: Remove The Divided Parts
After being cut, it is divided into two parts. You should move the top part first and think about it in advance. If you accidentally try to move the lower part, the upper part will fall to the ground. It can even fall on your body, and you can be seriously injured.
Gently tilt the upper part and carefully pull it down. Place it gently on the floor and now focus on the bottom part.
Step- 6: Decide To Keep Or Remove The Lower Portion
But, you have not removed the lower portion yet. Well, if that doesn't bother you, or if it stands as a support for your stair railing, you can leave it at that. Therefore, since you have removed the upper portion, there is some uneven debris in the cut area that you need to remove.
Clean the debris around the column joint with a utility knife and close its strip mouth. You can keep it interesting by coloring it. If you do not really need the following potion, remove it in the same way.
If you want to eliminate a few columns, start each task the same way and follow the whole process to the end. Remember that these tricks only apply to decorative columns; never follow them when removing supportive columns, but seek the help of an experienced engineer. 
3 Reasons Why You Should Remove Interior Decorative Columns:
Nowadays, the size of houses in the city is getting smaller day by day as multiple decorative columns are being used as a means of luxury. It is often difficult to walk. It would be wise to remove the extra decorative columns in this case.
Let's find out the reasons why your decorative columns should be removed.
Makes Your Space Smaller
Well, it is easy to see how much trouble some extra columns in the interior are bothering you even though you have placed them for decoration. Suppose you have a large space in your balcony or dining room, but it is too small for the columns, meaning you cannot use the whole space as you wish.
In this case, you can increase the space of your room or balcony by removing the extra decorative columns.
Difficulty In Movement
Since you have to stay close to the house most of the time, the place of regular movement needs to be smooth. Decorative columns can be difficult to navigate because they are in different places, or you may get hurt when moving too fast.
If your decorative column supports stairs railing, keep it intact up to that height and cut off the excess. In addition to these requirements, the lower portion should also be removed. 
Problems Moving Furniture
You must not keep your furniture in the same place for the rest of your life. Sometimes these need to be transferred. In this case, the decorative columns can create problems. Maybe it is not possible to place a piece of furniture where you want to place it because of having a column.
You may want to change the direction of the sofas in the living room, but you are not able to do so due to the presence of columns in the desired place. In this case, the columns should be removed from the bottom.
Best Tips For Removing Interior Decorative Columns:
Follow my below tips to remove decorative columns:
Before deciding to move the columns, check to see if they support the walls or ceiling of your home in any way.
In some places, small decorative columns are used in enclosures, so consider whether privacy will be compromised before removing them.
If decorative columns are used for safety in children's play areas, refrain from removing them.
The columns attached to the wall should not be removed as they do not cause you any special inconvenience and retain the beauty.
If you are not good at cutting it, give the responsibility to an experienced person who will be able to cut it without damaging anything.
Related Questions About Removing Interior Decorative Columns: 
Can Interior Decorative Columns Be Removed?
The decorative columns are placed as part of the interior furnishing, which carries the identity of luxury. It can be anywhere in your interior, but at some point, you may feel that these are taking up extra space or need to be removed for some special reason.
This can be done if you know the right method. If you do not know, you can take the advice of an experienced person to remove it. And if you have the confidence, you can do it yourself.
How Much Does It Cost To Remove Interior Decorative Columns?
There will be some cost $60 – $95 per labor hour to remove the interior columns when you want to do it by someone. In the case of load-bearing columns, the first thing to check is whether they can actually be moved, and to remove them, you have to use heavy equipment, which is not possible for you.
You do not have to worry about the cost of removing the interior decorative columns if you are good at it yourself. Yes, this is because removing these columns is not complicated as they are not concrete. You can get the job done in a very short time by following the right steps.
How Do You Remove An Interior Decorative Column?
To do this, you need to go through a few steps. First, measure how far one column is from another and whether they support your walls or ceiling. Then you have to decide where you want to start cutting it.
This is good if you cut 3 feet above the ground from the portion. Gently remove the top after making sure to cut properly. Then if you want to leave the lower portion with the floor, clean the area of ​​the joint where it was cut. Now you can repaint it for extra beauty.
How Do You Know If An Interior Decorative Column Is Load-Bearing?
Well, the way to understand whether an interior decorative column is a load-bearing is to check if it extends to the basement. You may not be able to test it yourself. So, don't do it yourself if you don't really know about it because you might be mistaken for an important column for being non-supportive.
The wise thing to do at this time is to call an engineer who understands it well. If he confirms that it is a load-bearing column, then remove it.
Is It A Good Idea To Remove Interior Decorative Columns In A Room?
Columns are one of the places of interior decoration. In particular, the columns in the room. Some interior columns in the room make the space narrow. Maybe you want to buy some new furniture for your room but can't decide to buy it because of the small space.
Indeed, a decorative column does not take up much space due to its long spherical shape, but it can occupy the shape of any furniture. Therefore, it may be a good idea to remove the decorative column from the room. But, it does not need to be removed if it is compatible with the wall.
Final Words
The most significant part of interior decoration is decorative columns, there is no single or slightest doubt about it. However, knowing how to remove interior decorative columns becomes essential when these are hindering your comfortable movement.
Since decorative columns are placed for sorting purposes, you do not have to go through any difficult steps to remove them. Remove the columns that do not support your roof or walls. Follow the ways and tips mentioned above so that you can make more spaces in your home interior.
You may also interested to read : How To Find an Interior Decorator In My Area?