A room that you own and where you receive friends and guests should have a beautiful look. If so, what could be better than dark furniture to decorate your house? When it's about dark color, most people are confused about how to decorate a room with dark furniture, right?
Decorating a room comes with innovation as a piece of art that should be simple but elegant. The idea to decorate a room with dark furniture can be quite intimidating. As black is the opposite color of white that is a symbol of purity, you might think black can make your room gloomy and small.
But if you know how to decorate your living room with dark furniture, you will see how magical it is to decorate your house with dark furniture. Wondering, how? Don't worry! This article will quench your thirst by answering the questions you have in mind about how to decorate your room step by step with dark furniture. 
10 Best Ways To Decorate A Room With Dark Furniture: Decor By Yourself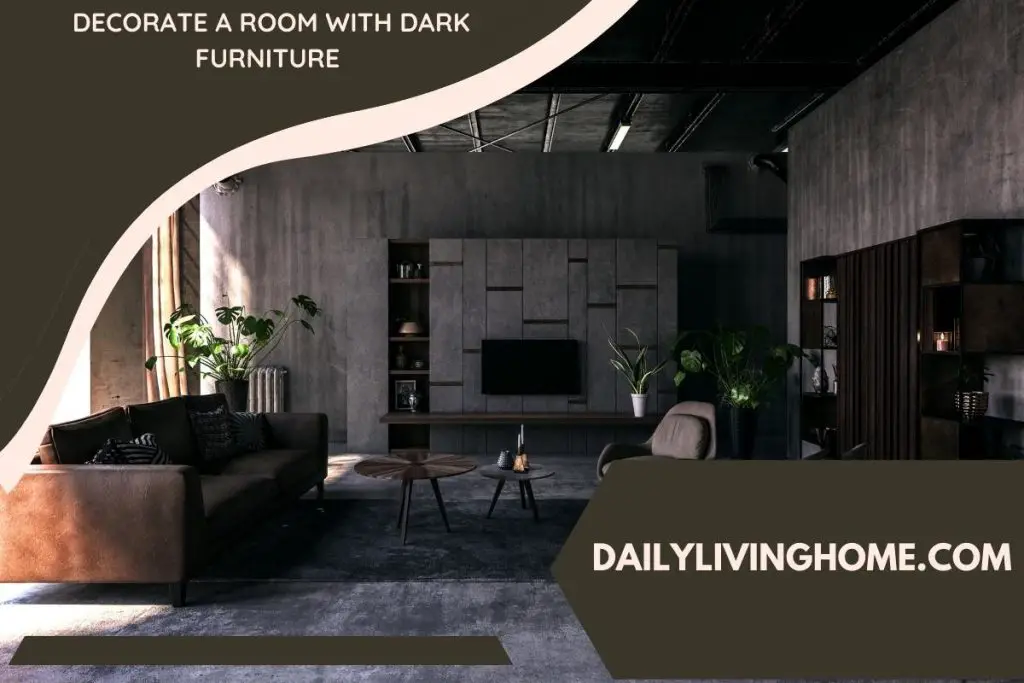 Though decorating a room with dark furniture isn't a cinch as it seems. But I'll tell you everything that you need to know about decorating a home with dark furniture.
1. Things That You Require Before Decorating Your Room With Dark Furniture:
Firstly, you need to have a plan and then you need to create a design to decorate your living room with dark furniture to make your job easy.  Before moving your furniture to your room, you should take account of the following things:
Black furniture
Colorful pillows
Artwork or flowers
Mattress/Bed
Standing mirror
Wall lighting
Wardrobes
Curtains/ drapes 
Pillows 
Rugs/Flooring Wood 
Storage
2. Use Black Tables:
Once you are prepared with the aforementioned things, you can proceed now to the decorating process. Setting mid-level black tables in a room can enhance the beauty of the home. You can refine your taste with black that is extremely versatile. 
You can use black tables like the classic console tables, tasteful cart end table, and end cart table to give your room an entertainment center look. 
3. Use Black Bookshelf:
A black bookshelf can make your room elegant. Bookshelf comes with a variety of black styles like ladder shelf, floating ledge, airy etagere, and trendy looking. You can choose one that fits best for your room. It will smarten your room's look.  
4. Use Black Theater Seating:
Black theater seating that comes with variant patterns would be the best for your living room. Black sofas that come with nailhead trims, Black chaise lounge chairs, and black bar stools are the ones that can go with your home decor perfectly. 
5. Use Black Rug:
A black rug can be something to attract your visiting guests. You can use black rugs to give your home a simple and natural look with furniture while covering your floor's wear and stains and increasing your room's glamor. 
6. Use Black Wall Art:
Having black furniture apart from the black wall art will smarten your home decoration. You can use a modern art gallery on your wall as a part of dark furniture to elevate the beauty of your living room. 
7. Use Pops Of Black:
Your room might be full of furniture like couches, chairs, and tables that take up most of the space. Here is the trick: you can use pops of black for your baskets, curtains, pillows, and lamps. Pops of black will enhance your room's lighting two times more.   
8. Use Black Containers:
If you are fond of green plants in your living room's space, you can fill that space using black containers that match with greenery plants. Black lightens around your room to hook your visitor's attention. 
9. Use Black Furniture With A White Wall:
With a simple nightstand or black bed frame, you can lighten your room's decoration multiple times more than the typical ones, especially if you have a room with a white color painted wall.
10. Use Sections Of Living Room With Black Wall:
To decorate your room with dark furniture, you can paint sections of your living room with black walls. It will give your room a new look while enhancing its beauty. 
Things That Need To Make A Room Brighter With Dark Furniture
You need the following things to brighten your room with dark furniture. Let's get started on the process of brightening a room with dark furniture.  
Facing an issue with the dark furniture that makes your room darker? Don't worry! You can make your room bright with dark furniture by using a variety of vibrant colors. You can use light blue or yellow for your sofas' pillows that are already dark-colored and can also use artwork to brighten up your room. 
You can bring in mirrors to brighten up your room with dark furniture. Standing mirrors can make any room look larger and reflect the light to the room to brighten up the room with dark furniture.
You can place the standing mirror in the darkest corner of your room and or close to the fireplace. You can use a bright frame for the mirror that will make the mirror look better and. The metallic color goes with the mirror best to increase the visual space of your room. 
To facilitate the air circulation and the light, you have a ventilator and windows in your house. Besides, you can use draperies for your mirror to reflect the light around your living room. The natural light can make your room brighter and larger even with black furniture. 
Be Mindful Of Your Ceiling
To make a room bright with dark furniture you always need to contrast the dark with light color. The same happens when you paint your house. 
While painting the wall of your house, you have to be mindful of the ceiling that you shouldn't paint with dark color rather you need light color to paint the ceiling with. Then the room will look brighter and beautiful.
Brightening Dark Wardrobe Closets
Do you have a room with wardrobe closets but have no windows in the room? You perhaps want to brighten up the room with the dark furniture you have. Two ways can brighten your darkroom. 
You can either use recessed light or pendant light that can illuminate the room and can also add a mirror to reflect the light around the room with dark furniture. 
If your room looks untidy and full of clutters, it doesn't create a good impression on your guests. It also takes up most of your room's space. That's where comes the talk of making things minimal.
You need to remove the unnecessary things from your room to the closets, boxes, and other places that would release more space in your room, and at the same time, the room will look brighter. 
Bright walls go with the dark furniture in contrast. A variety of white shades can stand out with dark furniture while making a focal point in the room.  While producing elegance, dark furniture makes a pale room into a welcoming one with some designs. 
Decor items like cushions, vases, and rugs can facilitate the brightening of the room. The home decor comes with a pattern of textiles that contrast the dark items to brighten your room. You find an expert decorator for you to decorate your room that comes with elegance. 
Proper lighting can make your room feel like a large and bright one. So, you should make sure you have a sufficient lighting system. You can use floor lamps and pendant lights combined to get a better result in a dark room. 
Accent chairs can brighten your room immediately. You can use chairs like wingback chairs, rocking chairs, and armchairs to make your room a focal point like a reading corner or a lounge. 
Cost And Time Of Decorating A Room With Dark Furniture 
The following table demonstrates the time and cost of the dark furniture. 
| | |
| --- | --- |
| Parameter | Dark furniture |
| Time | Professionals take around 3 days to decorate a room where DIY needs much time compared to the experts.  |
| Cost | Experts charge $50 to 200$ per hour where individuals need to spend on the equipment only. However, you can do it on your own within your budget.  |
Frequently Asked Questions:
Does Dark Furniture Darken A Room?
In literature or movies, dark creates a gothic sensation, a mystery among the audiences. When it's about decorating a room with dark furniture, you might be thinking of the same negative images, right? But with dark color, you can ink a sense of artistry in the mind of your visitors.
Dark furniture doesn't darken your room but can give your room a formal look that you have ever thought of. With the dark furniture, you can decorate your house to give it a look like a bright and large room. 
What Colors Go Well With Dark Wood Furniture?
If you know the power of black, you would dare to paint with black. But when it's about home decoration, you cannot merely think of one color but need a color that can be contrasted with black.
You can certainly guess what I am trying to bring with black to contrast that results in a bright room for you. Yes, it's the white, the symbol of purity that goes with the black to make your room elegant. Your furniture might come with yellowish or reddish and you can contrast them with the cream color.  
How Do You Change Dark Wood To Light?
Using tack cloth, you can do away with the sawdust. Then using a brush, add a gel stain that is of light color. After a while, you need to wipe out the gel stain with the rag. Finally, you should wash the brush that contains gel stain by using mineral spirits. Let the gel stains dry for four hours.
What Flooring Looks Best With Dark Furniture?
Dark flooring makes the room look smaller while lighter floors would give your floor a large look. But the painted wall should be a light white color that would contrast with the dark. 
You might have many more options if you have lighter floors. If you have windows, you can have natural light but You should be mindful that excessive brightness can lose the glamor of your room. 
What Wall Paint Goes Best With Black Furniture?
Black always goes with its opposite color that is white. While painting your wall, you can consider khaki, cream, beige, taupe that go with the black furniture, in contrast, to result in a bright and welcoming room. 
How Can You Make Your Black Furniture Look Better?
Natural light is always a blessing to have in your living room. What if the room doesn't have natural light? Here comes the thing of the plant. You can warm and brighten your room with plants by placing them next to your dark furniture. 
Is Dark Furniture Timeless?
Dark is one of those classy colors that never loses its glamor. If you are confused about choosing your furniture's color, black should be the one that will give your room a formal and classy look.
Can You Mix Light And Dark Furniture In A Room?
Dark is the opposite of white and dark represents sadness, depression, and negativities. On the contrary, white is the symbol of purity, virtues, and positivity. From this perspective, you might be thinking black color is always something bad, especially in decorating a room.
If so, black might prove you wrong. Because black is such a classy color that can make your room bright and beautiful. You can add light furniture with dark furniture to give your room a  formal, and wonderful look.
How Do You Brighten A Room With A Dark Couch?
A dark couch makes your room's decor pale and you are perhaps thinking of changing the piece. A dark couch with some decor can make your room bright. 
Fill the spaces with light curtains, blankets, and rugs, and use colorful soft throw pillows for sofas that make your room three times brighter.    
Should The Sofa Be Lighter Or Darker Than The Walls?
It depends on the space of the room that you have. Dark sofas might work with dark walls if you have a spacious room. But I recommend you choose the opposite color that can contrast with each other to give your room an elegant look. If your wall is white you can try with the dark sofa.
5 Tips For Decorating A Room With Dark Furniture:
I have discussed all the ways above to complete the decorating process for a room. Here are five more tips that can make your decoration process ace. Let's take a look at a glance:
Tip-1: Choose a wall color that speaks. 
Tip-2: Use light color paint on your wall that stands out with the dark furniture to make your room elegant.
Tip-3: Don't use black color painting on your ceiling rather use light greenish
Tip-4: Use colorful carpet for the spaces in the room.
Tip-5: Use different colors as an experiment to know the right color that goes with your decoration. 
Final Verdict 
By now you know how to decorate a room with dark furniture. I have explained everything steps by step to give you a deep insight into decorating a room. If you have more queries regarding decorating a house, read our blogs to learn more. 
If you have any further questions, you can leave them in the comment box below. I'll get to it soon.