Do you want your amazing home to make a long-lasting positive first impression? Then begin it right from the entryway to your living room. No matter whether you only have an entryway or a proper foyer, with trendy and functional decor schemes, you can transform it into something more than you think you can.
Truth be told, the entryway is the key that opens your domiciliary kingdom. If you've always longed for an ethereal, unparalleled world of your dwelling, why not start creating it with the entryway first? 
It's always a good idea to give a little attention to organizing and decorating your entryway specifically because, at times, it happens to be the only part of your house visitors get to see. 
In this article, I'll discuss 14 top-notch decoration modules that can elevate your entryway as well as your home to a whole new mesmerizing standard.
Let's get started. 
14 DIY Ideas To Decorate An Entryway Living Room: Applicable For Foyer Too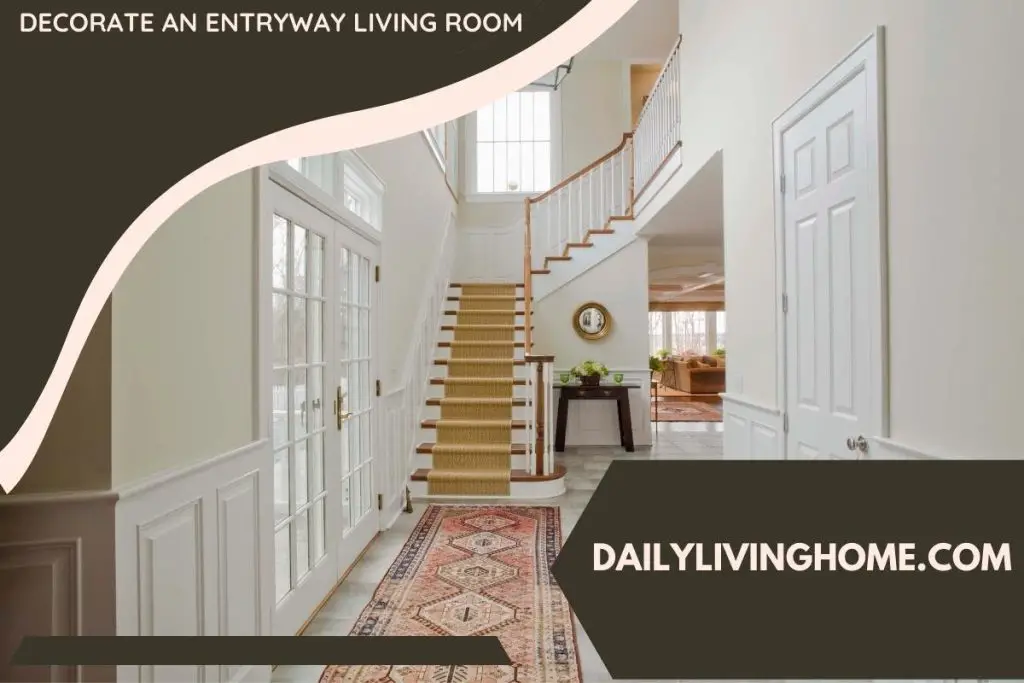 Before we jump on to discussing all the genius ways of this particular decor, let's talk a little about the factors to consider while proceeding with any decor scheme. 
No matter what style of decor you opt for, keep in mind that your entryway or foyer should end up organized, functional, optimized, defined, purposeful, and of course, pretty. These are the key principles that make any entryway decor idea worthwhile. 
Now that you know what to look for in an entryway decor style, let's get into business. 
1. Paint It Light: 
Entryways don't always have as much space as a full-fledged living room in the house. If you don't have a proper foyer, the area adjacent to your entrance may look small and narrow.
Painting the walls of your entryway in light colors such as cream, off-white, beige, etc. will make the space appear a little bigger and airy. It will give out an impression of your entryway being open and bring freshness to the decor. 
2. Wall Art: 
You can either heighten the stakes or take a laid-back approach with this one. Hang up art pieces in blue or purple canvas that will contrast with your entryway wall paint. It will give out a playful, intriguing vibe and make the entryway more interesting.
You can also do the opposite with light canvases, such as white for a subtle and spacy appearance. It will add a cohesive visual style to your decor. Feel free to use a life-size artwork on one portion of the wall if you may like. 
3. Set Up Sparkly Lights: 
Decorating your entry with some nice decor lighting has its perks. In general cases, entryways in homes are pretty tight in terms of space. It makes them devoid of the light and brightness necessary to make any decor look elegant. Taking some extra care of this lighting issue can make your decor go a long way. 
You can hang glinting chandeliers from the ceiling that will give out small flashes of light. It's an effective way to create an open, light, and airy ambiance in the entryway.
If you don't want chandeliers, go for some other kinds of lighting instead, such as track, recessed lighting, floor lamps, wall sconces, etc. The light produced by these vibrant sources will add a reflective shine to the area and help increase elegance. 
4. Use Of Mirrors: 
Decoration styles with medium to large-size wall mirrors are visually appealing while opening up small spaces. Mirrors will reflect some light throughout the entry and make it look open and airy. 
And if your front door contains windows, mirrors will elevate the look of the entry to a whole new level. They'll make it bright and fresh by bouncing some natural light into the area. You may opt to angle mirrors straight across the sources of light to achieve this look.
5. Place A Rug: 
A simple rug at the front of the entryway can bring up a major change in your decor. It'll define your entry prominently. A small entryway doesn't generally have a defined beginning boundary. Putting a rug at the start of the area will give a notion of an entry opening up onward. It will create an illusion of an entry even if there is virtually none. 
Place a simple but elegant rug even if you have a foyer instead of a narrow entry. It will make the area look more defined and systematic. And obviously, rugs make a place seem cozy and give a sense of warmth to its appearance.
6. Give A Purpose To Your Entryway Decor: 
An evident purpose of a decoration style lets people identify what part of your home they are in. For example, if visitors see a dining table, they'll understand that it's the dining area/kitchen of the house. So, it's a great idea to lead your visitors through the furnishing of a particular part of your house. 
Defining your entryway with a purpose would let people distinguish between this area and other parts of the house. This way, they'll know they are in your entryway and what they are supposed to do there.
You can choose whatever entryway decor scheme you like – coffee arena, reading or lounging place (in cases of proper, big enough foyers), or art display, decoration gallery, or anything for delineating and defining your entry, but the important thing is that there has to be one.
7. Keep Your Entry Organized: 
In reality, it's frequent for an entryway to get cluttered. All the residents and pets as well as visitors must move in and out through the area whenever needed. Therefore, piles might stack up or scatter all over the place quite easily. But to make your entry decor work, you need to keep the space neat and organized. It will increase the functionality of your entryway. 
To allow as little messiness as possible, make sure that the decor and furnishing scheme you are adopting is realistic. Since entries are typically less spacious as compared to other rooms in your house, a little amount of mess, removed shoes, clothing, or even dropped mail can make the area look tight and highlight the imperfection. While planning a decoration module, give importance to arranging everything in order and putting them in place. 
The best option is to set up certain places to serve the respective purposes that cause these messes. You can attach hooks so that hats, coats, or backpacks don't get thrown here and there on the floor.
Set up a mailbox, a place to put keys, a shoe bin, etc. to prevent these things from getting scattered across the way. No matter what, you don't want anyone to trip over disarrayed stuff on the floor. And things won't scatter if they have a place to go. 
Moreover, if you set up places, such as boxes or bins, you don't need to organize the things inside now and then. You can take care of them when you can manage to. It will save you time and effort, and increase the functionality of your entry. 
8. Provide A Place To Sit: 
Generally, homeowners don't tend to offer a sitting place in the entryway. While it makes complete sense in terms of small entries, a seat makes it convenient for people to slip on their shoes, lets you sort mail on your way in and out, and so on. 
Additionally, a sitting bench can work as a smart storage solution for coats, jackets, hats, shoes, backpacks, etc. to reduce the chance of clutter in your entry. 
A bench with cabinet or shelving underneath, or built-in storage hinges can provide you with the convenience you need. It will also make your entryway tidy, organized, and comfortable. 
9. Make The Most Of The Ceiling And Walls: 
Since an entryway is typically tight in terms of space, you might feel that there's much room for decorating it in some exceptional styles you want. Well, you can achieve more styling goals by making maximum use of the space in the walls and ceiling. It will carry a strong decor statement and reflect the styling theme of your house.
Hanging colorful paper crafts, amulets, dreamcatchers, or symbolic objects would bring more artistic collaboration to your decor modules. As for the walls, you can opt for arranging a series of framed photographs in patterns. 
If you've got a foyer or a bit larger entryway, it'd be nice to decorate the walls by displaying souvenirs, mementos, shadow boxes, etc. It will add some special value to your home style since visitors can learn from these decorations about your tastes, hobbies, and the places you've traveled. 
10. Make Your Entryway Seem Inviting To Guests: 
Entryways are supposed to serve the purpose of welcoming guests into your residence. If the area makes guests feel comfortable, it'll give out the right impression regarding you and your home. Arrange some facilities for visitors, such as charging phones, a place to put umbrellas, an ice scraper stand by, etc. 
Try to assess the ambiance of your entryway or foyer from a visitor's perspective. You will understand what kinds of comfort should be there to make them feel at home. Instead of treating your entry as a mere means of moving in and out and dropping random stuff, make it more like a personal space that speaks of who you are and what statement you want to give guests through your home decor. 
Regardless of whether you have a small entryway or a relatively larger foyer, it should be welcoming, and consist of a blend of style and comfort. 
11. Add Some Simple And Operative Furniture (For Foyers): 
If you have a foyer, make the most of the opportunity by adding some lightweight yet functional furniture. A small table, a minimalist bookcase, a medium or life-size statue, tall flower vases, etc. can enhance and stylize your foyer. The table will also come in handy if anyone needs to write something down or put things somewhere while in that area. 
Choose whatever you like without making the foyer or entry congested. The ambiance of the area should be airy, fresh, and comfortable.  
12. Go For A Half Wall: 
If you have an entryway that leads to the living room, you can build a half wall between them. It will create a sense of separation, and your home will get a distinct entry. If you choose to do so, use sufficient lighting to brighten up your entrance. Additionally, you can utilize the half wall as a gallery wall by displaying paintings, art pieces, or photographs.
13. Faux Plants: 
Including a pot of fake plants in your decor will give your entry a fresh, trendy, and clean vibe. You don't have to bother about taking care of it since it is all fake and doesn't require upkeep as the real ones do. You can put the plant in a linear wood console with other showpieces in alignment to create a trendy look. 
14. Try A Mini Bar: 
If you think that your decor scheme is somewhat boring, try adding a miniature bar in your entry or foyer to make it more interesting. This approach is functional and unique at the same time. Stock the bottles and serveware in the bar, and voila! You can now greet visitors with a nice drink. This bartender-style entry will make you stand out and become your signature decor scheme in its entirety. 
FAQs: How To Decorate An Entryway To Living Room
How Do You Separate A Foyer From A Living Room? 
You can opt to separate your foyer from the living room by building a half wall between them. This approach will define your entry as a distinct area, and you'll get further opportunities to stylize your home.
This half-wall can be decorated like a gallery displaying artworks or photographs. Remember to illuminate this area with proper lighting so that it can add more value to your home decoration.
If you don't want a half wall, you can divide the area using beaded curtains, an open shelf or bookcase, a cabinet, a wooden or glass screen, etc. Another way of such separation is to use different floor levels for a foyer and a living room. 
How Can You Decorate Your Home Entryway? 
There are many traditional approaches as well as trendy creative ideas to decorate an entryway. You can stylize the area according to your taste and preferences. Some of the popular outlines of entryway decor includes – 
Sufficient lighting arrangements 
Utilization of mirrors to create a visual appeal 
Decorating walls with art pieces, photographs, artistic wallpapers, etc 
Use of a rug at the beginning of the entrance to make the area more defined 
Hanging glittery chandeliers from the ceiling that would reflect the brightness 
 Creating a sitting place by putting a bench with a cabinet or shelving 
Painting the walls of the entry or foyer in light shades to make it open, airy, and fresh 
Hanging beaded curtains 
Usages of furniture such as a small table, a minimalist bookcase, a statue or flower vase, etc
Decorating with fake plants, souvenirs, etc
Keeping everything organized and neat in that area 
What Looks Good In An Entryway? 
Brightening up the small and tight entryway with a chandelier, recessed lighting, floor lamp, etc. is a good idea. Try separating the entrance from the rest of your house by building a half wall, sliding wooden or glass door, hanging beaded curtain, etc. Additionally, light color wall paints such as cream, beige, off-white, etc look good in an entry. These shades make a tighter and darker place appear larger, brighter, airy, and open. 
You can decorate the space with stuff like fake plants to add some freshness to the look. Usage of tapestry, artwork, framed photographs, etc can give the entry an artistic vibe. Place a shoe bin and attach hooks to the walls to help keep things in place. An organized, tidy, functional, and cozy entryway will always look good regardless of the amount of space it has. 
How Do You Create An Entryway For Living Room? 
Placing a rug right after the front door can give an illusion of an entryway even if there isn't any. You can play with pieces of furniture, such as a small table, bookcase, open shelf, etc. to make it seem that you have a distinct entrance while there's none.
Building a half wall, putting up a sliding wooden or glass screen can also work as a partition. Using hooks on the walls and arranging baskets in alignment can create the vibe of an entry. It will also help you keep the area tidy and organized.
Go for mirrors and sparkly lights to enhance the area. This way, you can generate the visualization of an entry opening up. It will also make a narrow, tight space look larger, brighter, airy, and fresh.
How Can You Make Your Entrance Look Bigger? 
There are quite a few effective techniques to make an entrance look bigger. Let's take a look at them – 
Paint the walls of your entrance in light colors such as shades of cream, off-white, beige, etc. It will create an open and airy perception to the eyes and make your entry seem bigger than it is. 
Use mirrors across from the source of light to make a small entrance appear larger. You can opt for medium to large-size mirrors and angle them across the lights or windows. It will reflect light and make the space look open and large. 
Arrange sufficient lighting in the entrance area. Since a small entry is not as bright as a regular room, it by default looks congested. Making it brighter can create an open and airy appearance. Thus, your small entrance will seem to have more space in there. 
Final Remark: 
The interior of your house starts from the entrance. Hence, if you want to make a powerful style statement, begin it from there. A tasteful, functional, fresh, and comfortable entryway or foyer can achieve things more than you think it can. 
Be yourself while opting for an entry decor and make your signature impact. 
Hopefully, this article could help stimulate your creative ideas regarding decorating an entry to the living room.