A relaxed space in your home brings unwanted problems due to a lack of sealing. However, it is relatively easier to seal between the porch and the house. In fact, you can handle it yourself without the help of skilled workers.
The screened porch accentuates your home a lot more than any other timeless design. If you live somewhere pleasant outdoors, a screened-in porch is a must. But the problem starts during the seasons. It really could be a good screen on the porch, but still, you notice insects bothering you, rainwater entering your house, and damaging the interior.
As you read this article, you will be amazed to know all the right ways to seal your porch and house. Also, I will recognize the best type of sealing products that are the best for all seasons.
11 Simple Steps To Seal Between Screen Porch And House: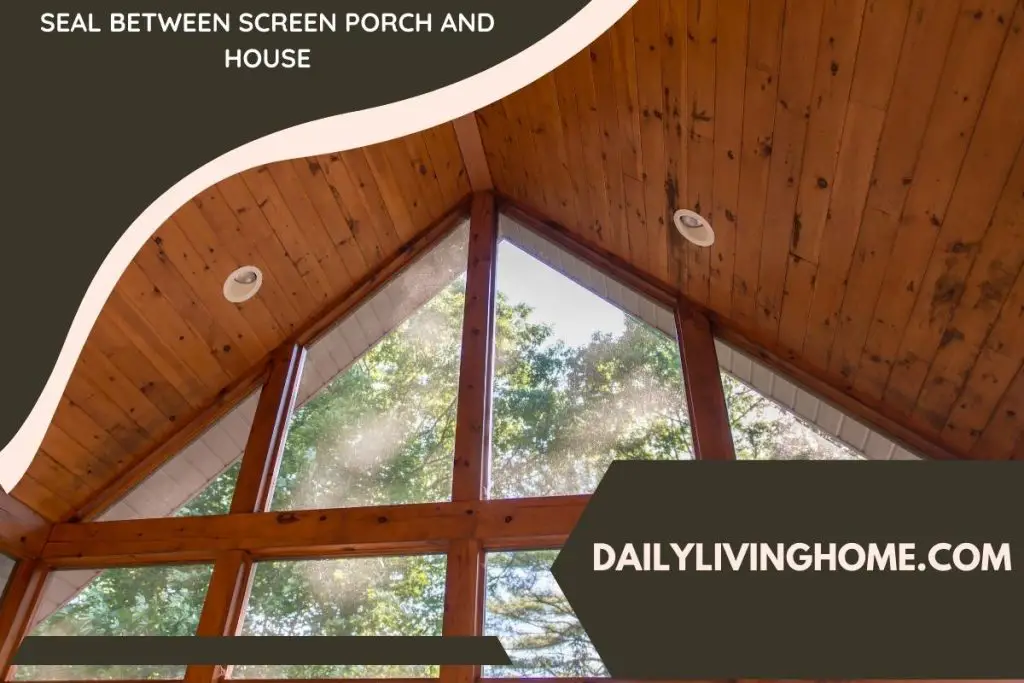 Nature is extremely beautiful. Though besides its beauty, nature gets aggressive at times. Due to that, our house often suffers a lot. That's why it is important to build our house accordingly. 
Snow, rain, strong winds, storms, heat, and all of these can cause damage. This is exactly why you need to apply the right sealants to seal. Follow the methods below to get the perfect seal.
Step-1: Necessary Hardware
Better quality provides better results. Here is some quality hardware that is necessary for the desired procedure: 
Scraper (flat);
Rubbing alcohol;
Foam backer rod (according to your need);
Painters masking tape;
Safety goggles;
Top-quality silicone sealants;
Hand gloves;
Caulk finishing tool;
Mineral spirits.
Step-2: Removing The Dirt
For a long-lasting result, you need to look at the preparation area. Preparing the area will help keep it cleaner and create a solid foundation. If you seal the area with dust particles, you will experience problems in the future.
First, you have to remove the old seal from the house wall. Remove every dust with the help of the scraper. You can use a knife instead. Then, take a towel, soak it in soap water, and clean every corner that needs caulking.
Step-3: Cleaning With Rubbing Alcohol
Immediately after cleaning surfaces, use rubbing alcohol to remove all residue. Keep in mind that excessive use of rubbing alcohol can damage your skin. So, do not take any steps without using gloves. Note carefully, that if there are some unnecessary particles on the wall, you need to clean every inch of it. Otherwise, the sealing will not be correct.
Step-4: Final Preparation Of The Area
After cleaning, be sure to dry it. Drying the surface will help achieve good adhesion. Since we are doing the waterproofing work, it is imperative to dry the wall. Make sure all walls are going to be attached to the porch. Be cautious because leaving an inch can make your sealing weak.
Step-5: Applying Foam Backer Rods
The walls of the house are not exact. If it is precise, day after day it gets rough, creates gaps between joints, and so on. For this very reason, foam support rods eliminate the problem with a solution. The foam supports the gaps, making it airtight. You can also cut regular foam if there is one available in your home. But foam support rods are the befitting ones.
Step-6: Placing The Painters Masking Tape
This step is important because it identifies the sealing area, which greatly facilitates the application of the seal. You can't seal the area. Taking correct measurements helps the most to make it even easier on the eyes.
Therefore, you can recognize where to seal much faster than usual. This will make a clean joint. Any complications during the procedure can be easily eliminated.
Step-7: Organizing The Silicone Sealant Gun
Start by cutting the mastic nozzle at a 45-degree angle which will make it easier to apply in the corners. Further, proceed to use heavy-duty silicone sealant guns.
Step-8: Silicone Sealing Process
You may be wondering why you should use silicone sealant. Silicone sealants are active instead of regular sealants. High-quality silicone sealants are best suited for this type of work. It is a durable substance that offers waterproofing,  extreme temperature control, and drying. within minutes. Also, try not to use sealants that don't add flexibility. 
After cutting the nozzle, make sure there is no closure inside the tube of sealant. Load the sealant into the gun. Holding the gun at the same 45-degree angle, make sure the measurement is perfect with the wall. Squeeze the trigger lightly with steady pressure. Don't press too hard or too soft, make it even.
Ensure to seal every corner correctly as guided. Make it smoother by pressing it with a caulk finishing tool as soon as you are done sealing. 
Step-9: Removing The Masking Tape
Remove the masking tape by noticing the seal before it gets dried out. You shall not be rough while removing the tape. Take the tape off gently, being more patient about it. 
Step-10: Interior Sealing
There is no difference in sealing the interior. Just simply implement the same methods and it will be ready. 
Step-11: Finishing Touches
Finishing is just as crucial as the beginning of any process. To finish this task, you have to carry out a little more. By using the mineral spirits you can scrap any external sealants at ease. After that, just make sure it looks fresh and neat. 
You can now paint the seal matching your wall after it is parched completely. 
7 Things To Consider Before Sealing Between A Screen Porch And A House:
Sealing is an easy process overall. Although it may take some time, there are also a few things to know first before sealing. These are the things that will help you complete the process by acknowledging it very well.
If your porch is wood, be sure to secure it to the wall. This will help make the joint faster. It will hold the structure while balancing with the joint. The construction of the structure will be robust, which will result in its longevity.
Be safe and sound all the time. I see many beginners who try this type of process and miss out on the safety part. Remember one thing, you are working with wood materials and houses. A little complication can bring bad consequences. So, you must wear all the safety gear before you proceed. 
Spend time on your work because you need to notice every part of it. In every task of your life, the more time you spend, the better and better it gets. Keep in mind that this is your home project. It is for your family. Focus on every corner, if you find flaws, try to fix them, no matter how long it takes.
This procedure is very inexpensive and can be done properly if it is handled with care. You might think about the parts, how much it will cost, right? The hardware that you need is available more or less everywhere. Although, you also can rent some equipment. 
Instead of doing it yourself, add a few extra hands to your work. You can call some friends or get the work done with the help of your family members.
Do not carry out the process if the weather condition is not good. Proceeding after your house is all wet with rain is not a good idea at all. Only in dry weather, put in the steps accurately. 
Every step of this process must be done by keeping time in mind. If some steps are done late, it may affect the next one. A few times, it disrupts the process.  
4 Useful Tips To Maintain The Seal: Increase The Lifespan
Usually, many individuals don't care much about maintenance. Though, using the right quality products can increase the lifespan of a seal. Maintaining it with extra care is also a plus point. Here is all of it. 
Tip-1: The right products indeed ensure its safety and all. You should not reuse or put any extra seal over the sealed area. 
Tip-2: Always make a permanent decision about the area you are sealing. It may cause damage if you try to clean the area and reseal it. It may create more gaps between the surfaces. 
Tip-3: After a change of any harsh weather, check every seal. Most of the time it will be okay, but it can cause damage after a huge storm or heavy rainfall. Be conscious about it. 
Tip-4: If there is any leak on the seal, just simply put some sealants over it. You don't have to panic about it. However, you can simply detect any leaks by flowing some air to the backside of the area. 
Related Questions
How Do You Seal A Screened-In-Porch?
The screened porch is widely used in many different regions of the world. A home's screened porch is a very good option for many people. Some of you even spend most of your time on the porch. It offers an excellent view of the outside. clean and clear you need to take care of it. By care, I mean sealing. Following the guidelines below will help you with this.
After properly building the screen structure, prepare the vinyl base strips. These strips hold the sheets. It ensures the sheets stay in place. Place the sheets on the central column of your structure and add the screws carefully so they don't fall off. Add your strip accordingly so you have one continuous strip.
Then simply press the screen against the bar after the channels. Cover the entire porch and carefully use a utility knife to cut out any extra screens. Then attach the vinyl covers. This is how you can caulk a porch with mesh.
During the process of sealing, do consider making the screen not too tight or too loose. Hold it and steadily give an adequate amount of stretch to it. 
Is It Expensive To Seal Between Screen Porch And House?
Sealing between the porch and house is an inexpensive process. It will cost around $30-$40. Moreover, you don't need the hand of a professional worker. You can call it a DIY process. Getting some extra help will resolve the issue. 
You don't need any heavy equipment. All devices are shared, which can also be useful for your label. A house and porch are often attached wrong. The sealing part remains in most cases. That is the reason why many of you face different kinds of problems.
In general, you should know, the work is cheap. Overall, it will be successfully done if all the guidelines are followed. Besides all of that, the seal has to be done only if the user wants it to attach to the house.
Why Should You Seal a Screen Porch And House?
What does a seal mean in the case of screen porch and house? It means attaching the two objects as one which makes them stand with each other. Generally, some like to attach to their house, and some don't. This makes complete sense because their liking may vary.
Therefore, another reason to seal the screen porch and house is to fill up the cracks, gaps, and breaks between them. You may have added a porch to your house but the house is getting damaged by water, wind, and insects. This is the very reason why one should seal the screen porch and house. It makes it more efficient for the house structure to be safe. 
Every house loses its temper during the seasons. Apart from that, carelessness can cause different problems to arise in the future.
What Is The Best Sealant To Seal Screen Porch And House?
Multiple amounts of sealants are available to choose from. For screen porch and houses, silicone sealant is the best type of sealant working right now. It is the best sealant on the market. 
Top-quality silicone sealant provides your house with extra strong adhesion. With the durability of every season, it can remain uncracked for many years. The product also guarantees operation in extreme weather conditions. It has a very fast dry-out formula. Silicone sealant comes with no disadvantage. Without a doubt, it is the best choice for your next seal. 
Nevertheless, silicone itself is the best material for sealing. It is very soft, non-acidic, and works as well as the customer wants it. Going through all the cracks and gaps, ensures the bond between the two surfaces. Moreover, if you use sealant which is not suitable for your kind of work, it will be the same as before. 
Final Verdict
This article has ended by outlining all steps and tips on how to seal between a screen porch and a house. Approach all the techniques and hopefully, it will be a better outcome for you. From preventing it from different weather conditions to sealing your house, it works just fine. 
I tried to provide my best and in the end, the choice is definitely up to you.