Having a mobile home is very convenient especially if you need to shift frequently. People who invest in mobile homes do that thoughtfully and purposefully to enjoy its facilities. But they also want to use it as a proper home. While that is possible due to the interior setup, making the exterior look like a proper house becomes challenging. 
Many people assume that a mobile home can never look like a permanent house. But this is a misconception. The main difference is that a mobile house is manufactured in a different spot and the permanent house is built on site. But still, if you feel that the look is not right, you can try out ways to rearrange the look of the exterior. 
For people who are clueless about how to make a mobile home look like a house exterior, this article is for you. With several years of study and experience, I have come up with some ideas to make a mobile home exterior look like a real home. So stay with me till the end of the article. 
7 Ideas To Make A Mobile Home Look Like A House Exterior:
You can get a lot of ways to make a mobile home look like an actual house by changing the exterior. The interior is basically the same as a normal house. But the exterior may look different. Because in a wide space, a house is just positioned. But houses built on sites have a surrounding that gives the feel and vibe of a home. As the boundary wall, lawn, etc. are some features of on-site built houses. 
To make a mobile home look like an actual house, you have to get some tricks and replicate some exterior ideas that houses generally have. It is actually very easy if you have carefully noticed the exterior of different houses. Just copy what you see outside an actual home and do that in front of your mobile home. 
To help you with some amazing ideas, I am here with 7 ideas to make a mobile home look like a house exterior: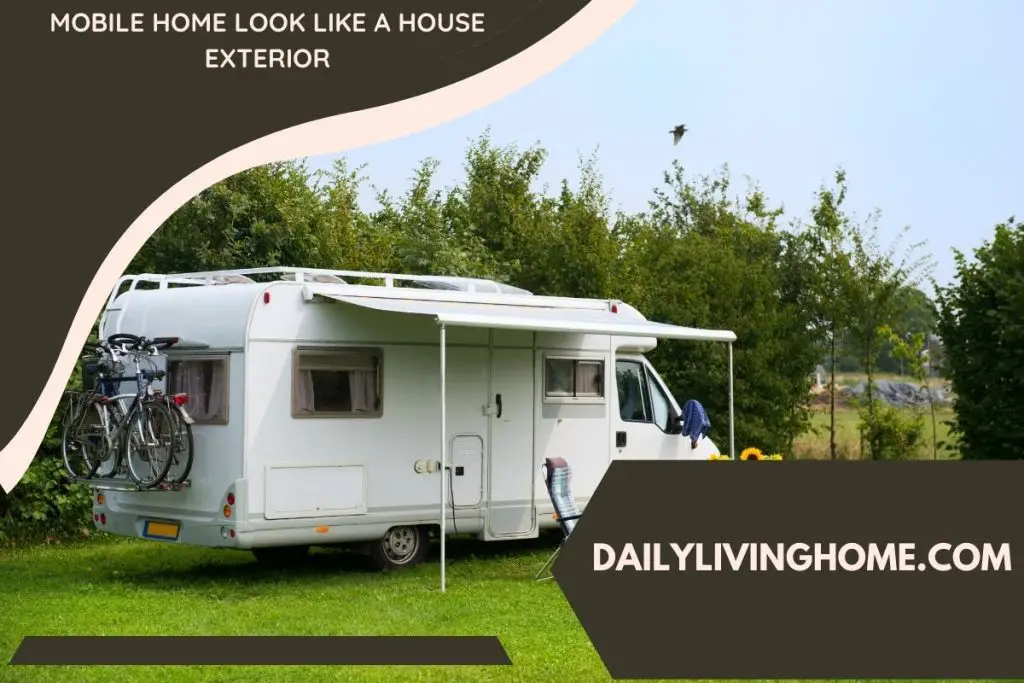 1. Set The Home On The Ground:
Having a crawl space beneath a mobile home is a common thing. The crawl space is the gap (around 20- 30 inches) between the base of the house and the ground. There remains a stair to go up to the house. Now, this crawl space clearly shows that it is a mobile house. 
If you eliminate the crawl space and set the base on the ground, it would look like a traditional house. Simply set the house on the ground by digging the ground a bit to make space for the base to sit well. Remember that this process is expensive due to the digging and setting base. 
After the house is positioned into the excavated area, retaining walls are installed with trenching. Soil is put back to cover the seams and makes it look like an actual house made on-site.
2.  Placing A Garage:
A garage in front or on one side of the house gives a feel of a real house. You can just make an extended shade from the house to park your car. Parking your car just outside the mobile home without a shelter clearly denotes that it is a mobile home. So if you are having a car, make sure to create a garage or at least a shelter to make it look like an actual house. 
I would say that having a separate garage just beside the house would be easier. But if you don't want a fancy garage like that, just extend the isle or entrance of the home to make a shade that would work as a garage. Needless to say that you must eliminate the crawl space too to give the real look of an onsite built house. But I would suggest placing the garage in front of the house to make it more visible to people. 
Therefore, people having a car or other vehicle can surely think of adding a parking space to the area to give the feel of a mobile house. This would definitely make it give the look of a house exterior. 
3. Alter The Siding:
The siding of a house is usually built along with a mobile home. And aluminum siding is mostly used in mobile houses. Therefore, a house with that siding clearly shows that it is a mobile house. So one good option to make it look like an actual house is to alter the siding.  
Many modern sidings are cost-effective as well as excellent in terms of durability and look. Like a modern vinyl siding can add outstanding aesthetic value to the house. It also adds value to the house as it is a modern option giving a new and gorgeous look. It looks more arranged and tidy with the new siding giving a very homely and formal look, just like an actual site-built house. 
Moreover, new sidings will protect the mobile home better than an old siding. Especially for those who haven't changed the house siding for a long time, this is the time to change it not only to give it a new look but also for better protection and longevity. 
4. Create A Vibe By Landscaping: 
Without making any change to the mobile house, you can give a look at a house exterior. Just rearrange the exterior of the house all over again and add a landscape. But how? 
Give a boundary wall or fence to secure your area and make a gate at one side or in front of the house. This clearly shows that the whole area, including the house, is a proper residence. Next, pave a pathway from the gate to the entrance of the mobile house. In the remaining areas, you can add a garage. Also, add grass and plant some trees, put flower pots, and decorate the fence too. You can even put a table and chairs to make an outdoor relaxing space. A swing in the outdoor space also creates a perky and friendly vibe. 
Just pick up any idea to give the vibe of home. Anything that makes the landscape more noticeable and comfortable can give a look of an actual house exterior. Also, it makes your stay more happening and comfy as you get to enjoy the vibe. 
5. Add A Porch: 
Making the front area of the house inviting and welcoming is very necessary. And for that, having a porch along with the door is truly important. Now obviously, a mobile home won't come with a porch. 
Without a porch, the doorway seems very naked and empty. It disrupts the warmth and vibe of a home and destroys the friendliness making it unwelcoming. To make it look like a home, adding a small porch with the door is a good idea. Not a porch on the side of the house but a porch with the main door makes it more inviting and impressive. Just that one shade in front of the house makes the house exterior appealing. 
So you can think of investing in adding a porch to your mobile house to make it look more like an actual home. It also appears beautiful and impressive from the street when you add a porch to the mobile home. 
6. Make The Main Door Large: 
You would rarely see a mobile house with a large door. Most mobile homes have a flush or panel door. And this is a major marking point to say that it is a mobile home. Now, what about eliminating this and installing a larger door? 
In my opinion, adding a large french door can make the house look like an actual site-built house. Large doors are mainly installed in onsite houses. Also, if you make it out of wood and glasses, it would give a more cozy and homely atmosphere. The porch would be larger too when the door is larger. In fact, you can just extend the porch to park your cycle or motorcycle as well. So having a large door is beneficial too along with giving an appropriate look of the actual home. 
Thus if you have the chance of altering the door, you should definitely choose to have a large door. 
7. Change The Roof: 
If you have researched well, you would see that most mobile homes have a flat or slightly elevated roof- like a very formal and geometric shape. But a site-built house is mostly not like that. People work a lot on decorating the roof on a site-built house but that doesn't happen in the case of a mobile home. 
So the very first trick is to make the roof more sloppy and elevated. You can try out gable, hip, or dormer roofs to change the look of the mobile home roof. A shed roof also works if the interior is very modern. These shades prominently give the look of an onsite house. While flat roofs are very geometric and formal, these roofs are very casual, beautiful, and appealing. 
If you have the opportunity to change the traditional roof of your mobile house, you can do that to give the look of a traditional onsite-built house. 
Read Also : How To Hook Up A Generator To A Mobile Home?
Frequently Asked Questions: 
Can You Change The Exterior Of A Mobile Home? 
If you are thinking of changing the exterior of a mobile home, you can do it in a lot of ways. Since many may want it to look like a site-built house, changing the exterior is a good option. 
The basics you can do are to color the house exterior, change the siding, and alter the roof of the house. These are some common things that would adorn the house even more. But besides that, you can make some additions to make it look like a traditional onsite house. For instance, adding a porch to the front door or having a garage can change the exterior of the mobile home a lot. Besides, you can decorate the land beside the house to change the exterior. 
So you see, there are several ways to change the exterior of a mobile house; be it for decorating it or changing the look. 
What Sidings Can Be Used To Change The Look Of A Mobile Home?
Changing the siding of a mobile home does a lot to make it look like a house exterior. While most mobile homes are made of aluminum sidings, there are other options too. They function very well in mobile homes, alter the look, and adorn the entire house. 
Here are a few options of siding that you may use to change the look of a mobile home to a traditional house exterior:
Wood siding;
Cement siding;
Vinyl siding;
Panel siding;
Fiber cement siding;
Besides these options, some may use metal sidings too. No matter which one you use, check the compatibility with the model of the house as well as the weather of the area. Not all sidings are suitable for all conditions. 
How Much Does It Cost To Alter The Siding Of A Mobile House? 
Since changing the siding of a mobile house seems like a savior to make a mobile home like a house exterior, you should know the pricing. The cost of siding for mobile homes varies according to the area and material being used. So here is a chart mentioning the cost of some common sidings for a mobile house: 
| | | |
| --- | --- | --- |
| Siding Materials | Cost Of Material (per sq. ft) | Labor Cost (per sq. ft) |
| Vinyl | $2- $7 | $2- $6 |
| Wood | $3- $12 | $1- $6 |
| Cement | $1- $6 | $2- $10 |
| Steel | $4- $8 | $5- $10 |
| Stone | $15- $30 | $7- $15 |
| Brick | $12- $18 | $10- $16 |
These are the average costs for different types of siding materials for your mobile home. It can be seen that vinyl siding is the cheapest while stone is the costliest option. 
Final Thoughts: 
You have got a bunch of ideas on how to make a mobile home look like an onsite-built house exterior. All the ways are excellent and effective. You just need to look into the budget and suitability of the options. I am sure that you would be able to choose at least one of the ideas mentioned above. 
To make your mobile home look cooler and better like a site-built house, which idea have you liked the most so far?